Posted by Cara Spindler on Jul 24th 2023
What are Met Guard Work Boots?
Metatarsal Guard work boots, also known as MetGuard work boots for short, are a style of footwear that is engineered to specifically protect the tops of your feet in the work place. This is the area where you will find the Metatarsal bones of the foot. MetGuard boots are made with either an internal or an external protective barrier, that will help protect your feet from crushing impacts, or heavy compressions.
What are the Metatarsals?
The Metatarsals are a series of five long bones that are situated on the tops of the feet. They extend from the base of your work boot's tongue down to attach to your toes.
Altogether there are 5 metatarsal bones, each one with a deep underlying ligament playing its part in weight-bearing; helping you to stand, balance your body, and to help to keep you walking correctly.
These bones are numbered one through five. The 1st Metatarsal is the largest one that connects to your biggest toe, then the 2nd, 3rd and 4th Metatarsals are numbered across the foot down to the 5th and smallest one that connects to the base of the pinky toe.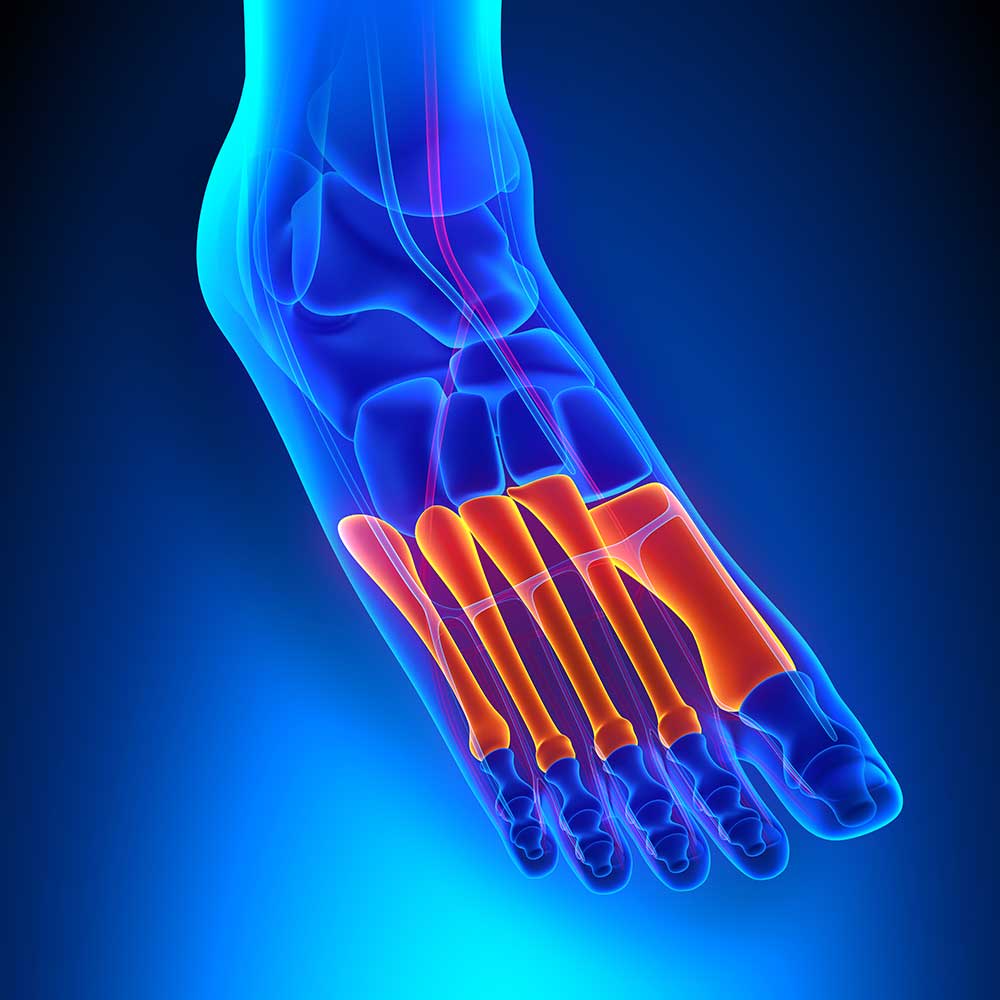 Metatarsal Injuries
While all of these bones are susceptible to being injured in the work place, the smallest one, or the 5th metatarsal, is the one that seems to be damaged most often, because It is the most delicate of them all.
The most common injuries to the Metatarsals are stress fractures, base fractures, Avulsion fractures ("when a small chunk of bone attached to the tendon or ligament gets pulled away from the main part of the bone.")(1) or complete breaks. Bruising and swelling are common with any Metatarsal injury and most often the remedy is simply to rest. Unfortunately, staying off your feet until the painful injury heals could take anywhere from six weeks to six months, so it is important to protect your feet on the job. Overtime, Metatarsal injuries may result in Gout or even Rheumatoid Arthritis.
Metatarsal bones become injured due to heavy objects rolling across the top of the foot, or by crushing objects being dropped down onto them. In jobs where there is a large risk of this happening, the business will make it mandatory that you wear a pair of work boots or work shoes that have Metatarsal protection that meets or exceeds industry standards.
Metatarsal Protection is mostly required for those working in the construction and demolition fields, retail stores, factories, or warehousing.
If your workplace does not have this requirement, it may still be a good idea for you to search out safety toe footwear that offers Metatarsal protection just as a personal safety precaution, to keep your feet free from any serious injuries.
Metatarsal (Met Guard) Protection
ASTM is an international organization that sets the international standard for the testing and standards used in the production and testing of personal protective equipment. (PPE) Work boots that meet the ASTM standards for Metatarsal protection will carry the number ASTM F2412-18a on the footwear and may also notate the abbreviation MT on the boot or shoe box or tongue of the footwear for reference.
ASTM specifically states in its guidelines that " 4.1.3 Metatarsal protection that reduces the chance of injury to the metatarsal bones at the top of the foot (Mt)," (2) It does this by absorbing and then deflecting the impact away from the top of the foot.
It is also the same guideline for Metatarsal footwear protection that OSHA follows in the USA in determining its safety requirements in the American workplace. OSHA is the Occupational Safety and Health Administration. within the United States Department of Labor.
You can read more about the ASTM and OSHA safety standards for work boots and work shoes in our blog here:
To search out the best protective work boot and work shoes for your Metatarsals, it is best to first have your feet measured by a footwear professional. Fit means everything when getting the right safety coverage in your footwear.
Most workers do not have their feet measured for years, or sometimes decades, thinking that their shoe size stays the same. However, overtime due to aging, injuries, weight gain or loss, feet change in both weight and length, sometimes simply due to a natural falling of their arches. Getting measured assures that the safety boots or shoes you purchase will be optimal, because if your footwear is too tight or too loose, it may not be able to properly protect you.
ASTM Metatarsal Safety Standards
For Metatarsal Protection, footwear needs to keep a 1.0" clearance for men's footwear and 0.937" clearance for women's, after a nominal impact of 75 foot pounds (101.7J), i.e., a 50 lb. weight dropped, reaching 117.9 ± 2.4 inches per second velocity at impact 3.5 inches in from the toe of the footwear (3.375 inches on women's).
Shop for brands that are well-known in the industry. The old adage "You get what you pay for" rings true in the footwear industry. Top quality materials and skilled craftsmanship are not to be discounted. They assure that the protective features of a work boot or work shoe will be properly placed an secure within the footwear and will not shift overtime, due to unskilled shoddy construction methods.
Internal vs External Met Guard Protection
Today the modern worker has options when it comes to Metatarsal footwear protection. Many traditional work boots have an Internal Met Guard that is built right into the lining of the boots. It is a protective layer that can withstand the ASTM standards for impact and compression from any object that falls onto or rolls over the tops of the feet.
Alternatively, some work boots today have an External Met Guard that lays on top of the work boot, just over the Metatarsal bones. This additional layer of protection can withstand the forces of a heavy impact or compression, but can also be removed so the work boots or shoes can be worn without it being attached. This type of Metatarsal Guard is usually a stiff layer of protection, which may hamper the comfortable motion of the foot when bending or crouching.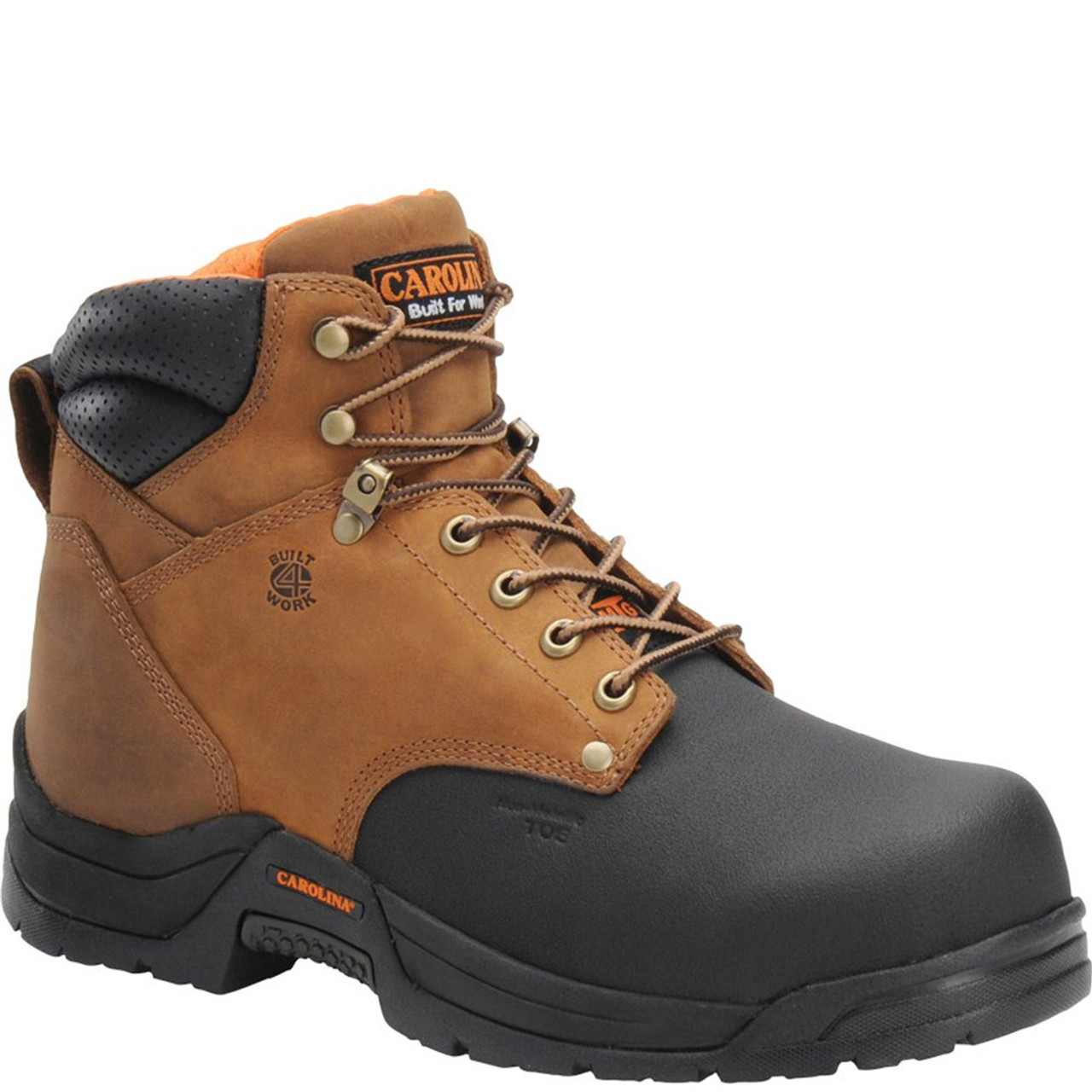 Carolina #5582 BRUNO INT

Internal MetGuard Work Boots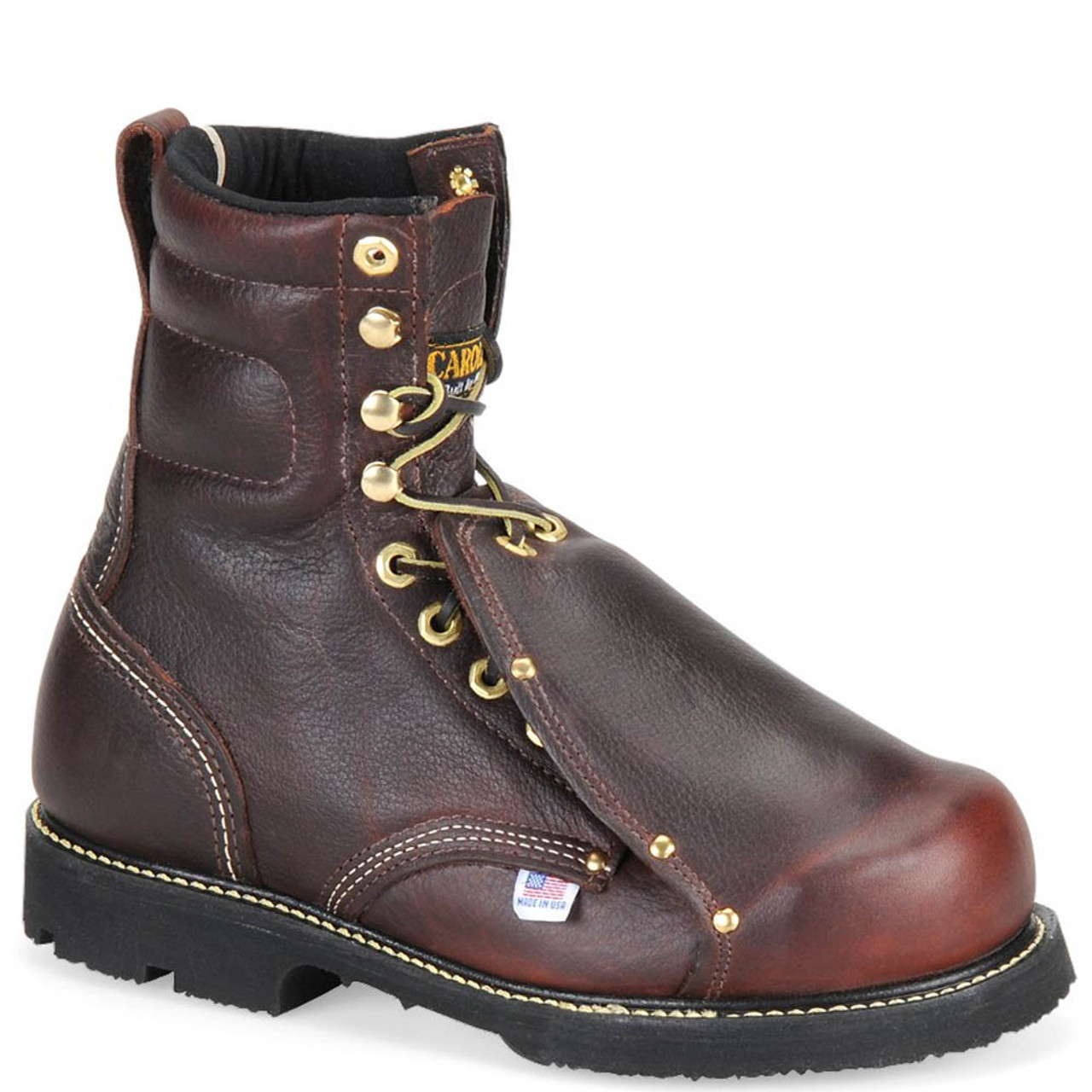 Carolina #505 UNION MADE INT HI
External MetGuard Work Boots
Newest Met Guard Technology
The newest innovation in Met Guard protection is based on advanced science. The most modern MetGuards are built to be a soft flexible layer that is above the Metatarsal bones within the footwear. This allows walking and crouching to feel natural and be unencumbered. However, at the moment of impact the material within the MetGuard layer hardens in an instant to provide immediate protection to your feet, as found with Internal and External MetGuards.
Best Met Guard Work Boots and Work Shoes
All the best work boot and work shoe brands in the industry have a line of protective Met Guard footwear to protect workers on the job. These are some of the Best Met Guard brands in the industry today:
One Last Thought
Purchasing a pair of MetGuard footwear from a well-known work boot brand, which meets current ASTM standards, assures you will have the best protection for your Metatarsal bones that is available in the footwear industry today.
*Updated on 6-5-2023 to reflect the best Metguard boots in the work boot industry in 2023
Babu D, Bordoni B. Anatomy, Bony Pelvis and Lower Limb, Medial Longitudinal Arch of the Foot.
Cothran VE. Metatarsal Stress Fracture. Medscape 2019. https://emedicine.medscape.com/article/85746-over...