Posted by Cara Spindler on Nov 20th 2023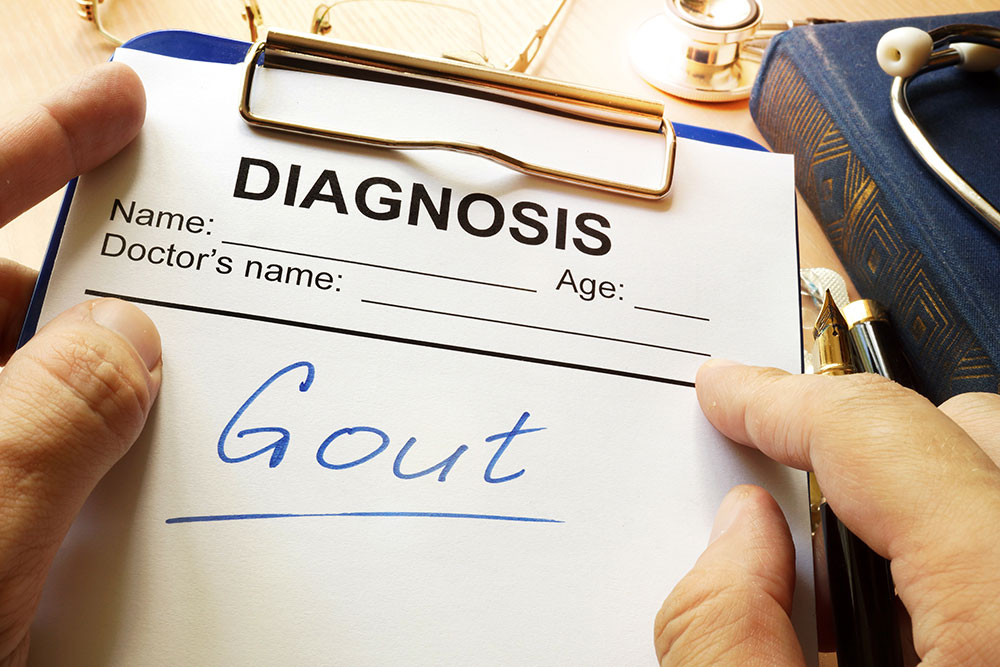 What is Gout?
Gout is not a disease, but rather a metabolic disorder that is related to arthritis

Gout is a serious disorder for many, as it affects over 8 million people in the United States alone. Out of these 8+ million people, 90% of them have a comorbidity that aggravates the managing of gout's symptoms. 1 Gout attacks in the U.S. have an impact on the economy and the health care system, as people lose 4.5 more days of work annually that are attributed to gout flare-ups.2

According to the Alliance for Gout Awareness:
"...employees who suffered more than three gout attacks annually, as compared to those who experienced fewer than three, had increased emergency department and urgent care visits. They also had greater short-term disability costs." 3

What Exactly is Gout?
Simply put, gout is caused by a crystallized build-up of extremely high levels of uric acid in the blood, joints and soft tissues in the body.

Uric acid is produced from purines found naturally in the body, that have been broken down from the foods we eat, so diet definitely plays its part in the onset of this disorder. The kidneys normally process this acid out of the body, but if the body produces too much uric acid for the body to handle, it can become a foot health problem.4
Pictures of Gout in the Foot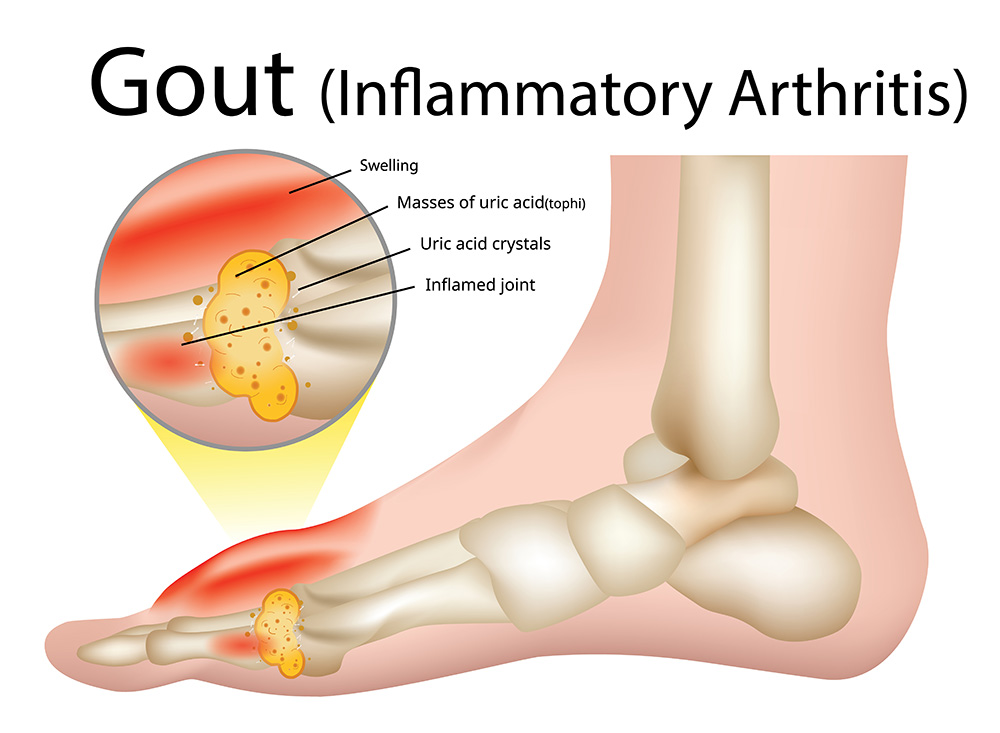 Above: Graphic of the uric acid build-up with Gout and its associated inflammation and swelling



Below: An actual image of Gout in the big toe joint, with a protrusion of a swollen "stage four nodule"
This excess acid collects as sharp crystals within the joints of the feet, sometimes even the ankles and less often the heels. This condition is scientifically known as Hyperuricemia.
Hyperuricemia
According to:NCBI (The National Center for Biotechnology Information)
"The most common complication of Hyperuricemia is gout, which is seen in 3.9% of the U.S. population."3
Gout occurs in the joints: generally first appearing in the joints at the base of the biggest toes, with painful attacks flaring up suddenly, most often at night while you are sleeping.
Science has discovered that while acid build-up is key for developing this disorder, the symptoms of gout may not appear immediately, because acid intensifies in your system over time. The body may actually suffer a build-up of uric acid for over 10 years prior to showing any noticeable physical symptoms.
Gout Symptoms in the Feet
Redness
Soreness and Tenderness to the Touch
Swelling or Inflammation
Warm or Hot Sensations
Severe Pain
Affected Range of Motion

Ghost Pain of Gout in the Feet

After a gout attack dissipates, some pain and discomfort may be felt in the affected area for up to a few weeks, like a faded painful memory. It is usually during this time that gout can wind up spreading to other joints of the body, such as the ankles, oft times the heels, and commonly to other parts of the body as well.
Once you have experienced your first gout attack, it is not uncommon for flare-ups to become commonplace; with future flare-ups occurring more frequently and with much more intensity over time.
Who is Affected by Gout?
Gout is more prevalent in those whose bodies host a high acidic environment, (ph level.) For most of their lives, men tend to have a higher acidic balance in their bodies compared to women. Studies show that men actually suffer from gout 4:1 over women.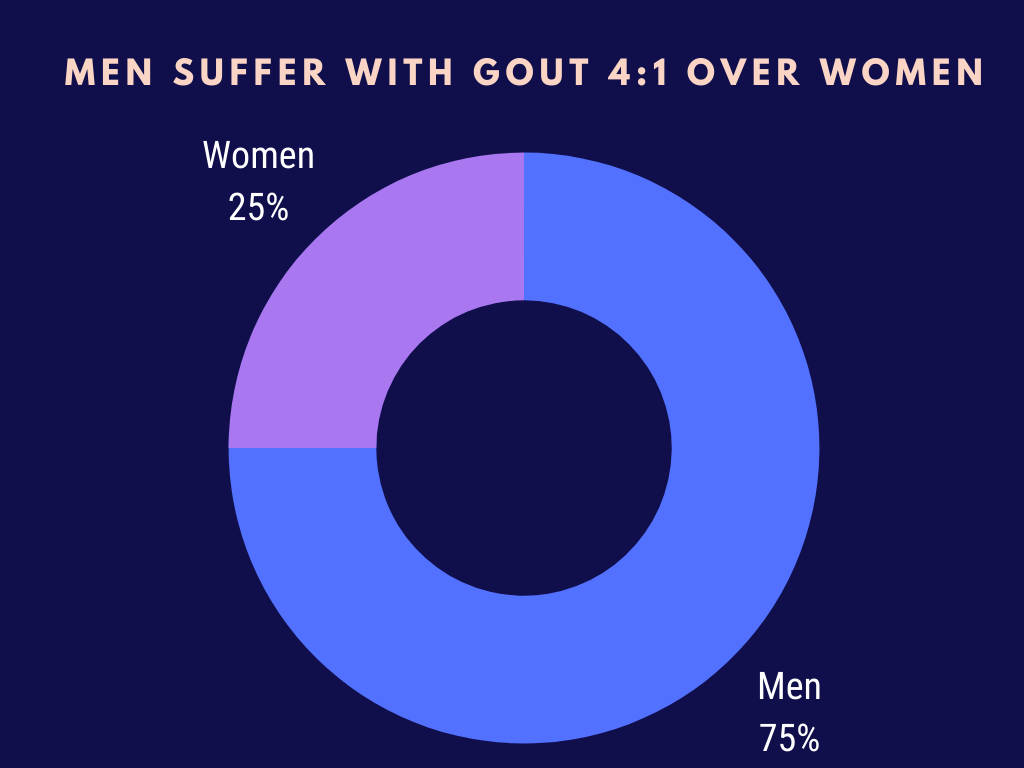 Additional Interesting Facts
Men tend to develop gout before the age of 50, whereas women tend to develop gout later in life - after menopause.
Some people are more susceptible than others based on their diet and pre-existing heath issues
Gout tends to most affect those who live in colder environments.
Is Gout Hereditary?
While it can be hereditary and affect family members for generations, gout is a condition that can affect anyone.
Official Diagnosis
If you suspect you are experiencing the sudden onset of your first gout attack, it is it is recommended that you see your physician or podiatrist immediately, to have them make an official diagnosis and to guide you in ways to treat the gout and its symptoms. Uric acid tests may be performed to determine what the levels are in your body.at this stage of the attack.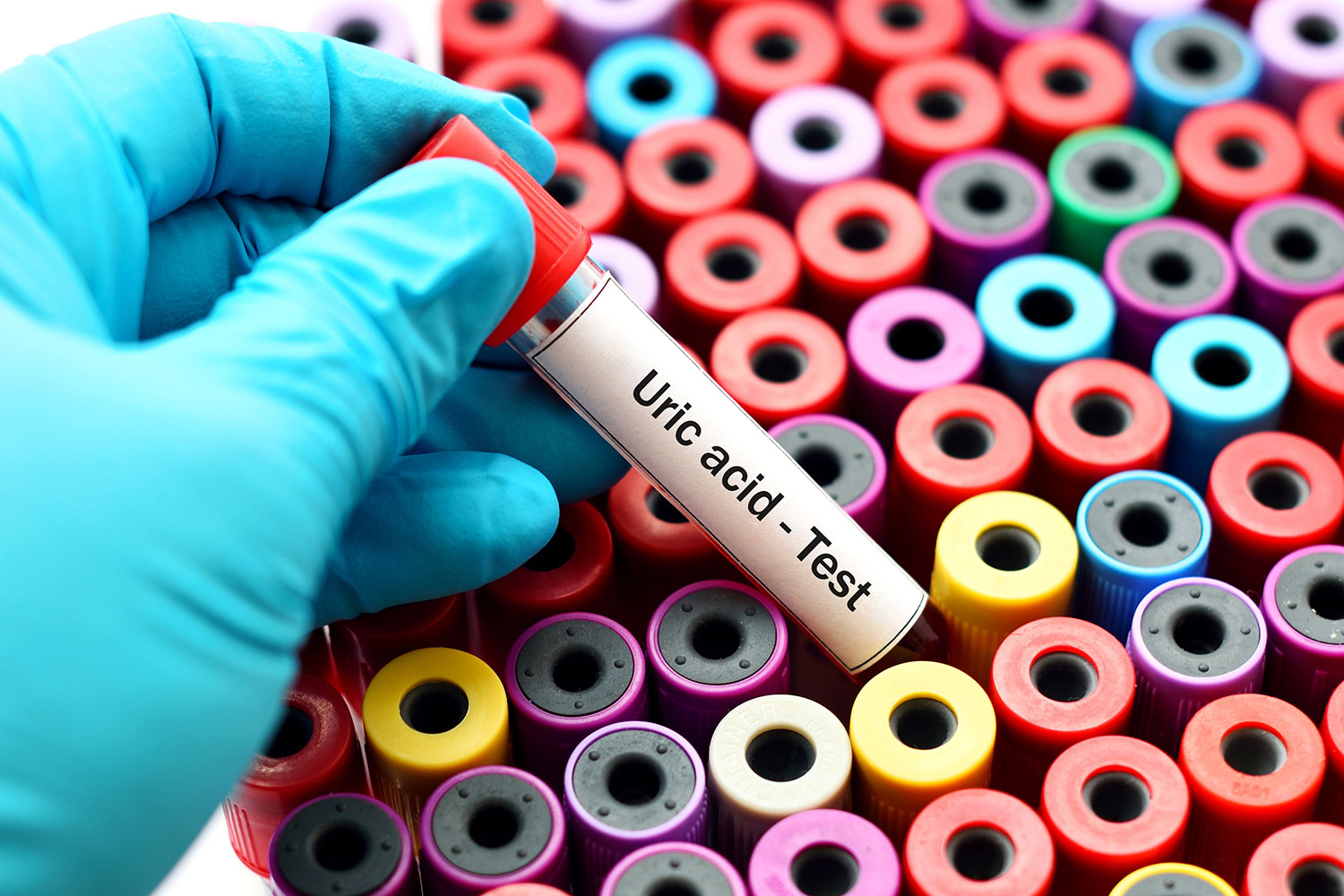 The Four Stages of Gout
There are different stages of gout that affect the feet. Each stage is important to understand in order to know how to address the specific symptoms and to know what treatment would be appropriate at a given time. if left untreated, irreversible joint damage may occur.
Asymptomatic Hyperuricemia


At this stage there is an accumulation of uric acid building up within the blood, joints and soft tissues, but it has yet to manifest any physical signs or symptoms. This stage can last for a decade or more before the first gout attack is experienced.

Acute Gout Attacks


At this stage, active bouts of sudden pain, heat and noticeable swelling within the affected joints occurs. Painful attacks can last for up to 12 hours at a time, offset by periods of rest within the joints.

Intercritical Gout


This is the period of rest for gout: the inactive span of time that occurs between attacks. At this stage, visible signs of having this metabolic disorder may not be apparent, but it is beneficial to pay close attention to your diet to help the body guard against the next flare-up.

Chronic Tophaceous Gout


This is the advanced stage of uric acid build-up in the joints and soft tissues, which results in the formation of hard nodules, or lumps, on the joints themselves. These deposits that form under the skin are unsightly, uncomfortable protrusions and can lead to an actual deformity of the joints. it is important to note: with proper treatment these nodules can disappear before any actual deformity occurs.
What Causes Gout in the Foot?
For most people, 50% of all Gout cases begin with an initial attack in the bunion joints of the big toes. But why is this?
One hypothesis is that it may simply be a result of gravity, with the acids naturally flowing down and then settling into the farthest joints of the lowest extremities: the big toes.

Another hypothesis is that because the feet and toes are farthest body appendages away form the heart, it is therefore a cooler part of the body due to circulation, making their joints more conducive to the formation of acid crystals. This correlates to gout being more prevalent in many colder climates.

Over time gout may also attack other joints in the body, though generally one joint at a time, including the metatarsals, which are the long bones on the tops of the feet, the tarsals, which are the seven bones within the ankle, and in rare occasions, the heels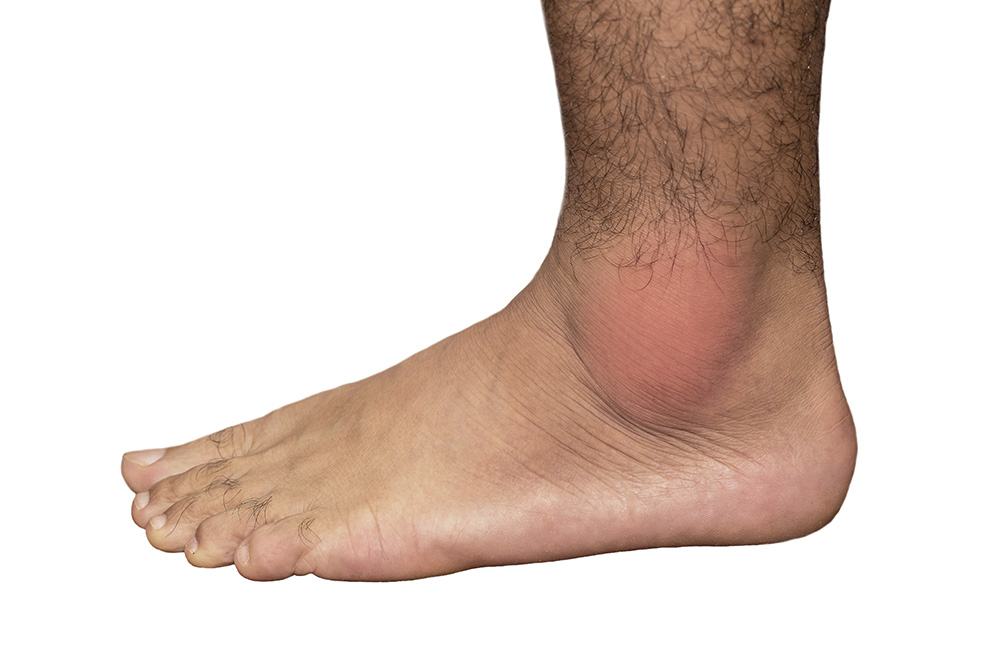 Above: Gout presenting with redness and inflammation in the ankle joint


Should I Walk With Gout?
Due to the pain and discomfort of a gout attack, it is always best to stay seated, elevating your feet if at all possible, until the flare-up passes.This may take a minimum of 4 hours, If you must walk during an attack, it is best to use a cane to help keep full pressure off the foot, and to provide extra stability.
Best Shoes for Gout
As seen in this graphic below, uric acids will crystallize into sharp clusters deep within the joints of the feet. This makes it imperative to have footwear that will minimize the pressure on these irritated areas and that will gently bend and flex around the affected areas as you walk.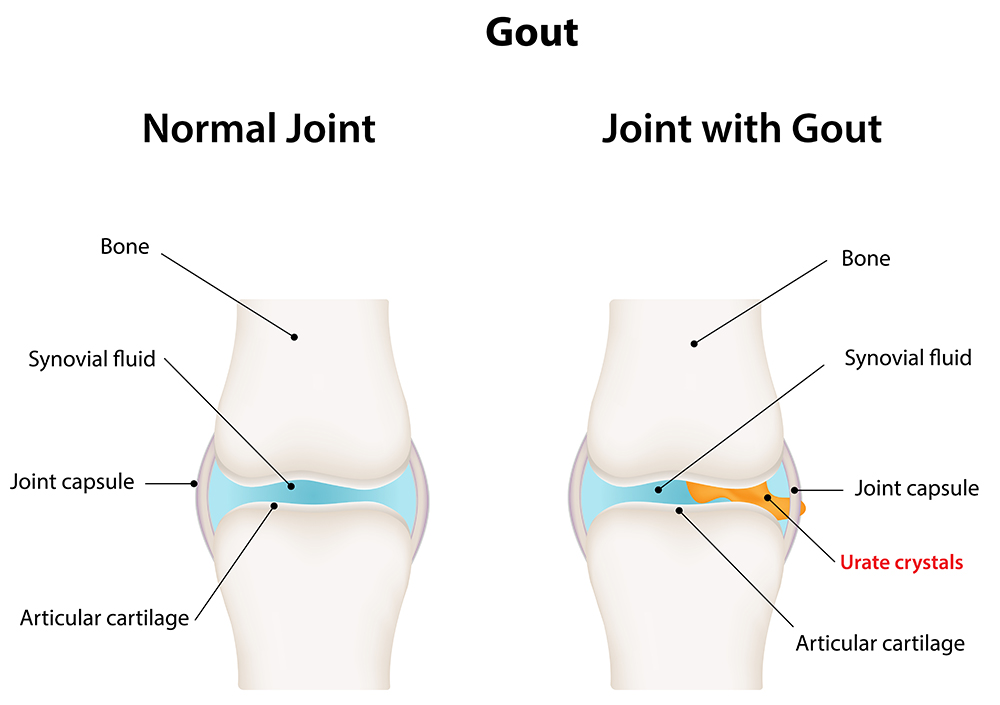 After a painful gout flare-up, feet may feel sore and sensitive for days, or weeks on end.

Therefore, it is crucial to have supportive footwear that addresses key comfort areas, in order to allow the affected joints time to heal and recover.
Key Shoe Features for Gout Sufferers
Wide Toe Boxes


A wide toe box allows room for any residual swelling of the toe joints, with room for natural toe splay.

Motion Encouraging Outsoles


Outsoles that help to propel you forward as you walk help to make walking more effortless.

Arch Support


The proper arch support helps to disperse the pressure of the body on the feet.

Cushioned Footbeds


Footbeds should be well cushioned to keep the bottoms of the feet relaxed and comfortable.

Extra Padding Under Forefoot Areas


Forefoot Padding brings an extra level of cushioning under the affected toe joints when walking.

Soft Stretch Uppers


Flexible Uppers provide a shoe wall that will stretch gently around delicate painful areas of the feet.

Sturdy Outsoles


Choose shoes with outsoles that offer stability and support to prevent any twisting or torquing of the feet.

Breathable Uppers


Breathability is key to prevent any heat build-up inside the shoe that can aggravate already warm, or hot joints.

Contoured Footbeds


Footbeds that follow the natural shape of the feet will distribute your weight and alleviate any pressure points..

Gel Heel Cushions


Heel Cushions add extra cushioning for those rare cases of gout being confirmed in the heels.

Heel Locks


Heel locks, especially in work boots hold the foot in place to prevent feet from sliding into the front shoe walls.

Adjustable Straps


Adjustable straps allow you to customize the fit of a shoe on a moment by moment basis.

Padded Collars


If you suffer from gout in the ankles, look for footwear with soft padded collars that surround the affected area.
Best Shoe Brands for Gout
Major shoe manufacturers have shoes that will feel comfortable after a Gout attack.Whether you need shoes for the workplace, or work boots for the job site, look at these brands that have an array of comfort features that will help you get through your next flare-up.
Recommended Casual Brands
Casual Shoes should have good arch support and adjustable straps, or laces, to accommodate how feet feel during the course of a day. Outsoles that bend and flex as you walk help take the pressure off of tender and recovering toe and foot joints.
Rieker Shoes and Boots


This responsive footwear offers ample toe boxes, lightweight Anti-stress construction and flexible outsoles.



Merrell Shoes and Hikers


These shoes have shock absorption, breathable mesh linings and ECO blended EVA contoured footbeds.




Skechers Shoes


Skechers casuals have breathable knit mesh fabric uppers, arch support and Air Cooled Memory Foam Insoles.



Birkenstock Sandals


Few sandal brands are recommended for all stages of gout, but Birkenstocks really deliver. Their open air design and memory foam footbeds provide relief not found in the enclosure of more traditional hard-walled shoes.



Recommended Athletic Brands
Running and Walking Shoes are a good choice for Gout because they excel at providing soft, comfortable uppers and linings, with shock absorbing cushioning and flexible, yet stable outsoles.
Brooks Sneakers


This premium sneaker brand has stretch mesh uppers and soft sock-linings that provide maximum gout relief.




New Balance Sneakers


This brand engineers responsive, walking shoes and athletics. Look for styles that have their maximum mid-foot cushioning and their seamless Phantom Liners that will not irritate the joints of the feet.



Asics Sneakers


Asics have Rearfoot and Forefoot Gel® Cushioning, Ortholite® Sock-liners and excellent arch support.
Recommended Work Boot Brands
Getting the protection you need in the workplace, along with the comfort your feet need after a gout episode, can be difficult. These work boot brands should fit the bill and keep you going on the job.
One Final Thought
Not everyone can stay home and rest through a gout attack. As painful and uncomfortable as it can be, many people just have to power through it and still report to the job site, or go into the office.

If this is the case, shop for a comfortable pair of well made brand of shoes, or work boots, while you are in the Intercritical Gout (or dormant) stage. Select shoes or boots that provide maximum comfort and flexible support.
Once you find the right shoes, sneakers, sandals, or work boots, buy a second pair in the same size, but in a wider width.
The reason? When you are going through your next gout flare-up, you'll have shoes on hand that will fit just right, and also provide the extra toe box room and cushioning you need to accommodate your tender, swollen, inflamed joints.
Family Footwear Center is an award-winning family-owned shoe store that has been in business since 1992.

CITATIONS
1) https://www.hss.edu/condition-list_gout.asp Hospital for Special Surgery,.New York, NY
2) https://www.goutalliance.org/the-facts Alliance for Gout Awareness, Washington D.C.
3) https://www.ncbi.nlm.nih.gov/books/NBK459218 Hyperuricemia Authors Christina George; David A. MinterAffiliations MSU-McLaren OaklandLast Update: May 29, 2020
4). https://www.rush.edu/health-wellness/discover-health/5-facts-about-gout Rush University Medical Center, Chicago IL
*************************************************************************************************************

DISCLAIMER: The content provided by Family Footwear Center is done for informational purposes only and is not a substitute for professional medical advice, diagnosis or treatment.
*************************************************************************************
What is a Foot Bunion? | Expert Guide to the Best Shoes for Bunions

by CARA SPINDLER
Expert Advice on the
Best Shoes and Work Boots for Bunions
*************************************************************************************
How to Pick the Best Running Shoes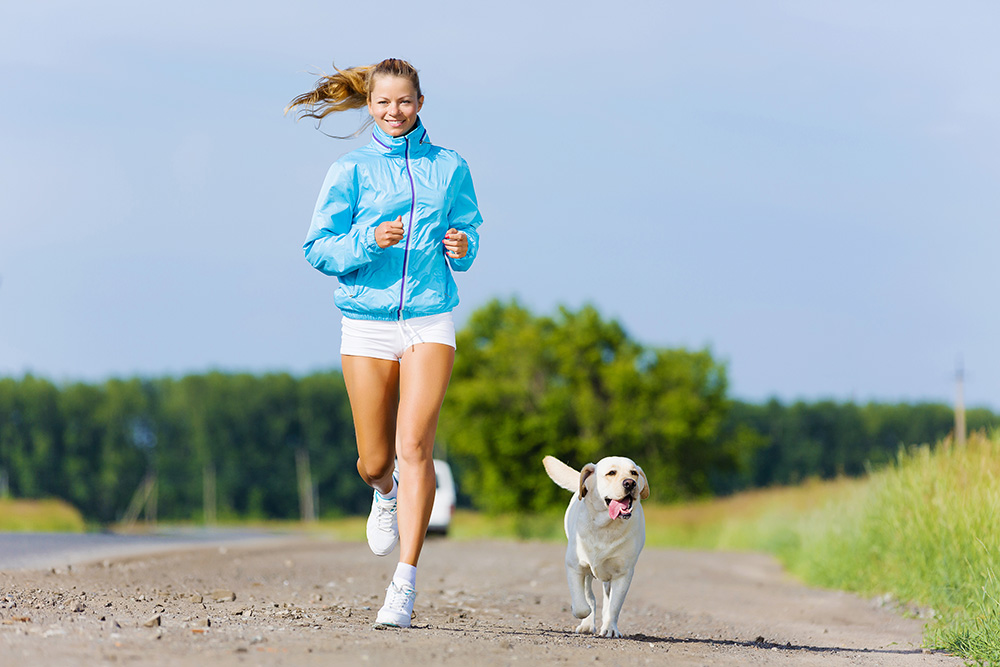 It is especially important to select the right type of running shoes if you suffer with Gout, especially if you a diehard runner.

Please check out our Expert Advice on How to Pick the Right Running Shoes