Posted by Cara Spindler on Jul 24th 2023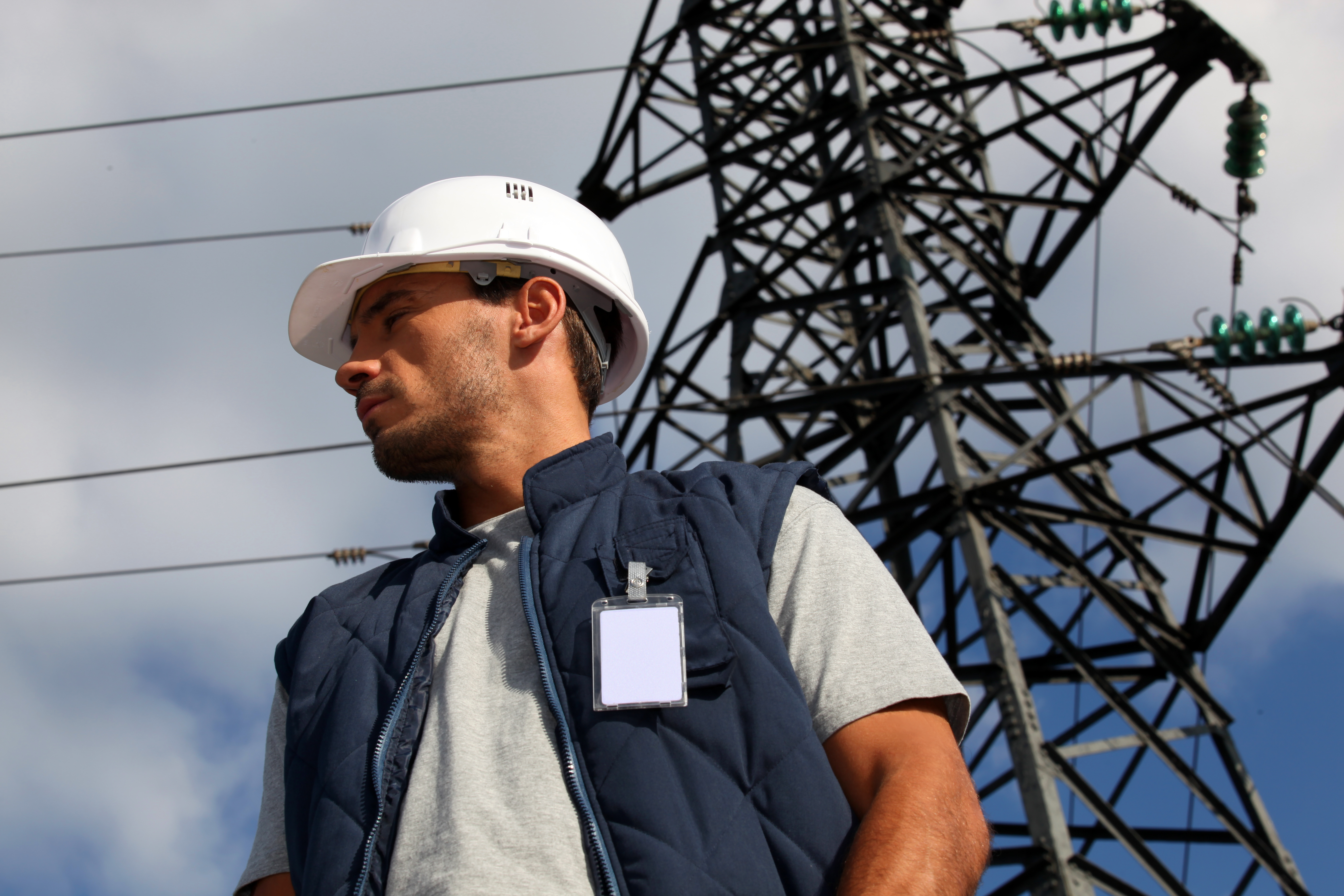 Best Lineman Boots | Expert Guide to the Best Pole Climbing Boots in 2023
by CARA SPINDLER
Being a Lineman is a hazardous job and it calls for very serious work boots.
Climbing up 40' telephone poles and over 1,000' steel communication towers is dangerous, so all the equipment used in the course of a lineman's job must be strong and dependable.
This not only applies to their general tools of the trade and to their pole-climbing gear, but it applies right down to their work boots as well.
Secure footing is crucial to Lineman for staying safe on the job.
During the course of a day, many Linemen climb utility poles and work with high-voltage lines that are overhead. Tower Technicians may find themselves routinely climbing communication towers that are well over 100 feet tall, while carrying 50 lb loads.

When climbing tall poles and steel structures utilizing steel rungs or pegs, it is imperative to have work boots that will protect feet, provide strong shank support, have solid heels and have aggressively structured outsoles.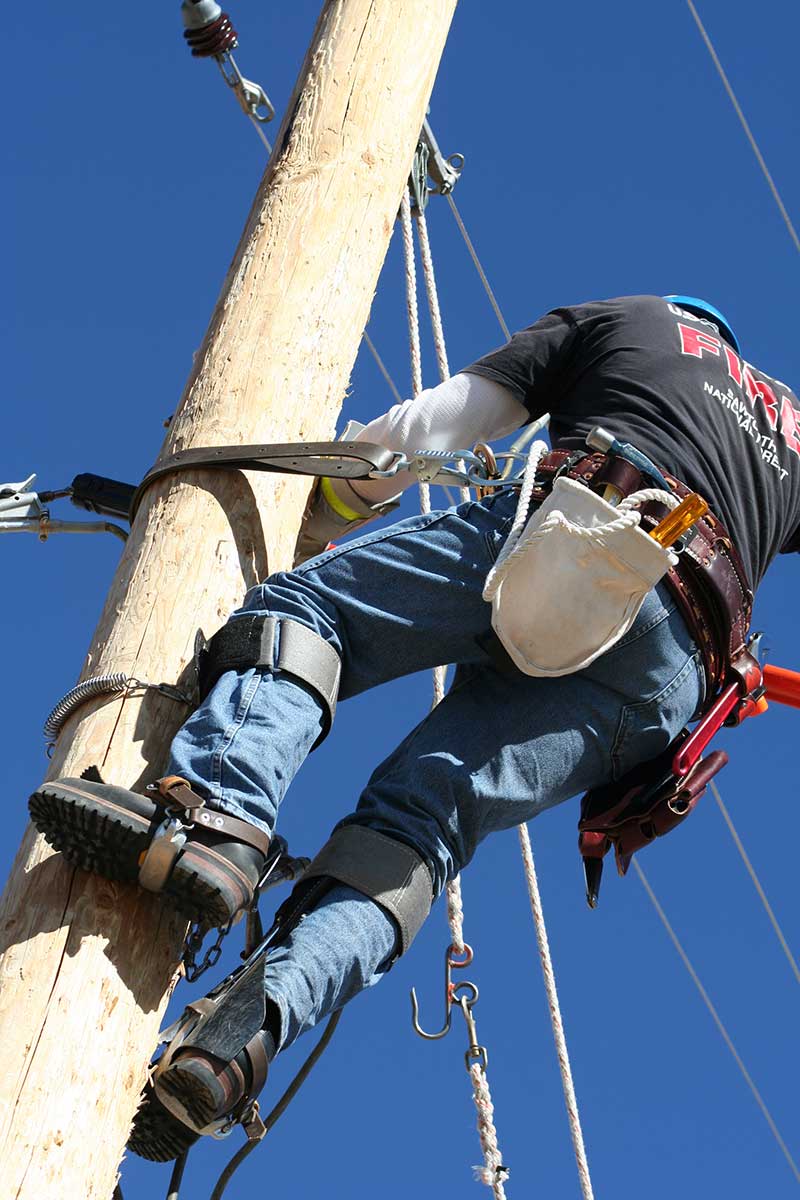 A Lineman's boot heels must securely latch onto steel rungs and pegs to avoid any slippage. Sturdy boot heels are also necessary to hold a lineman secure, while climbing utility poles wearing lineman's climbing stirrups. It is crucial that their boots' heels be strong enough to confidently lock and hold their feet, and their body, in position at all times.
An added hazard that linemen face is when they are working during extreme weather events. Linesmen boots should be waterproofed, or at the very least water-resistant, with an outsole that provides excellent traction when worn outdoors in the harshest of elements; such as snow, sleet and the heaviest of downpours.
Linemen also need to be comfortable while climbing and standing on rungs or pegs for long periods of time without the stress of leg pain or foot fatigue setting in. Good boots for lineman are ones that provide strong, wide,and supportive shanks underfoot.

Linemen work in the Danger Zone.

On December 18, 2018 the US Department of Labor released their 2017 High Fatal Work Injury Ratings by Profession, and Electrical Power Line Installers and Repairers were the 10th most dangerous job in the USA.
Here at Family Footwear Center, a family-owned company in Vermont for over 25 years, we know that the best lineman work boots must have very specific features to meet the demands of this very dangerous job.

As seasoned experts in the work boot industry, Family Footwear Center recommends Carolina Lineman Boots, which are built to provide linemen with maximum protection and comfort.
Carolina Linesman boots come in either USA Union Made styles, or in less expensive imported styles, so you can have the protective lineman boots you need, even if you are on a budget.
Whether you are a Journeyman, a Lineman Apprentice, or a Telecommunications, Cable or Tower Lineman, the intensity of your job demands tough, high-quality Lineman Boots, such as the ones that are made by the Carolina Boot Company. They are engineered to handle the rigorous, physical demands of the job.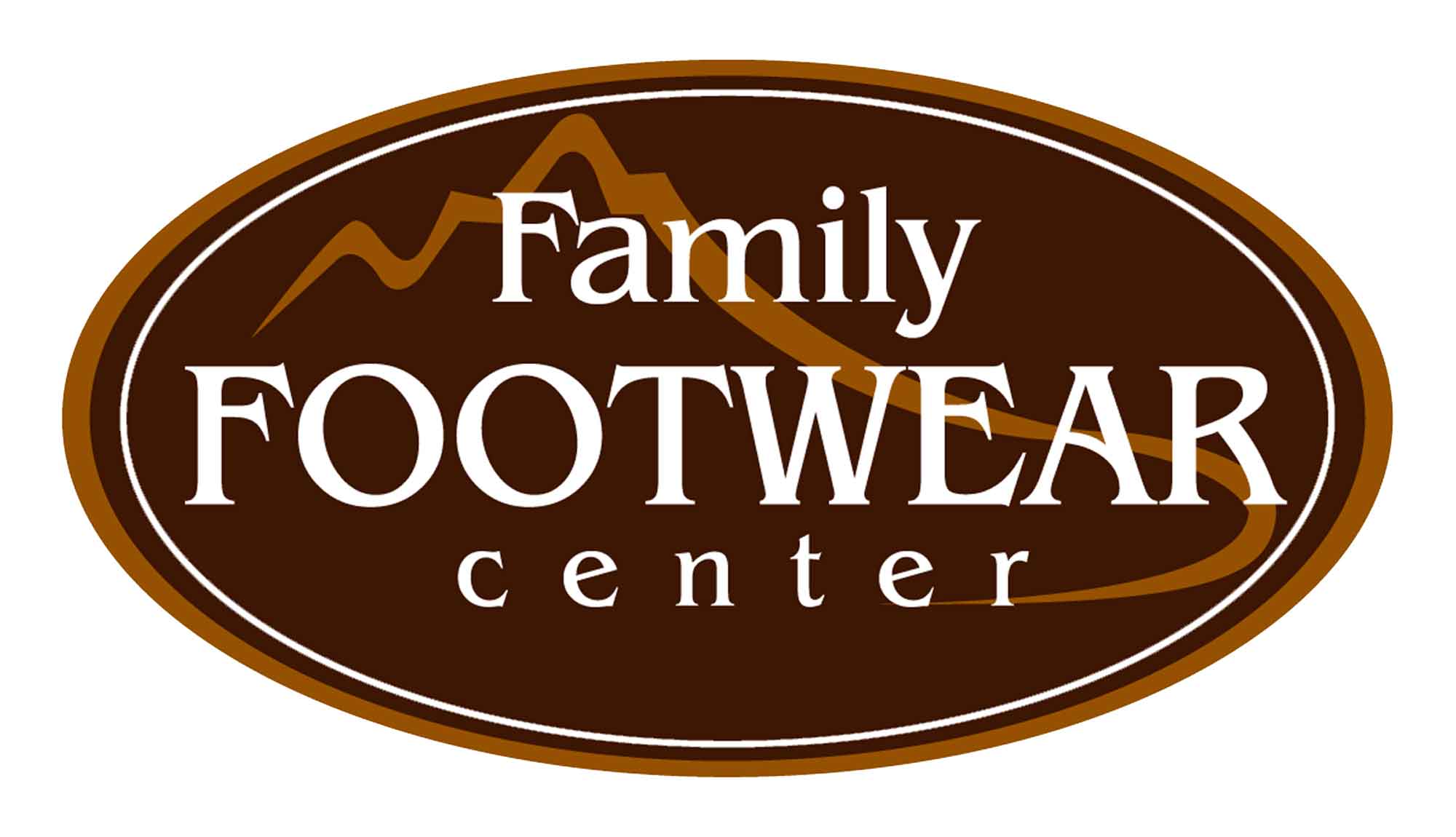 Here is our Expert Advice to help you find the Best Work Boots for Linemen: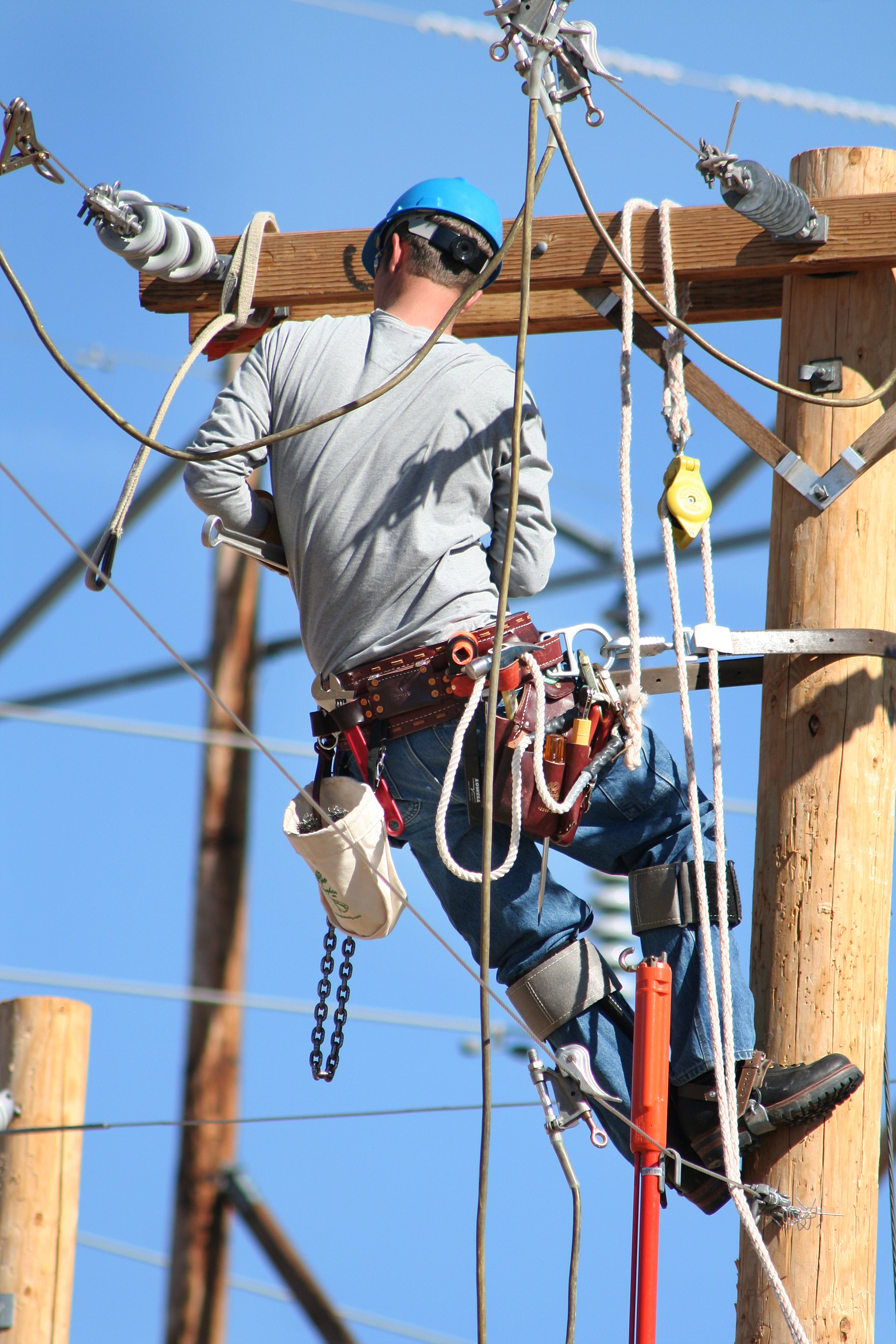 The Best Linemen Boots Offer These 4 Protections
Weather Protection

Lineman Boots Need to Have Solid Weather Protection.

In the course of a day, linemen may get caught in a snow squall, or icy sleet, or they may be out repairing downed poles during a heavy, wind-driven rainstorm.

Lineman cannot afford to have water run down into their boots where wet socks could become slippery, compromising the stability of their feet inside their boots. It is important for linemen to have work boots that will keep their feet dry and in control, from the inside out.

Wearing official lineman boots becomes an essential for the job. They are designed to be extra tall and lace up over the calves, creating a snug, protective fit. This offers structure and support, and helps to keep out Mother Nature's elements so legs and feet stay warm and dry.

Some lineman choose to even go one step further, and wear lineman boots with a built-in Internal Waterproofing System, with a breathable moisture-wick lining. The reason? Wet socks and clammy feet are not only a source of discomfort and inside foot slippage, but collective moisture in the toe box area can also lead to uncomfortably cold feet. Even worse, it will lead to unchecked bacteria growth.

Selecting fully waterproofed boots with a breathable moisture-wick lining helps feet stay dry and healthy and keeps footing secure, starting from deep down within the boot themselves.

Some of Carolina's lineman boots have their patented SCUBALINER, which is lightweight and seamless in design. It is an invisible part of the interior lining of the boots. It not only blocks out water 100%, but it is engineered to be breathable, allowing air to flow into the boots and around the feet.

The result? Sweat is wicked away from the feet and then transferred to the outside of the boots where it can be evaporated, keeping feet dry and comfortable.

Safety Toe Protection


Work boots that meet ASTM Safety Standards for footwear protection are optional for linemen.

Climbing utility poles creates a whole host of challenges and many workers find it important to have solid toe protection. Safety Toe Footwear that meets strict ASTM Standards will protect feet from any impact or compression from heavy equipment that might drop onto, or roll over the feet.

Luckily, today's linemen can choose work boots with safety toe caps made from the modern lightweight alternatives that protect feet just as well as steel, meeting the exact same ASTM work boot safety standards. These newer choices are made from non-metallic composite materials, aluminum or alloy.

Many Lineman still opt for traditional Steel Toe boots, but the downside is that steel is heavier than the more modern alternatives, steel takes up extra room in the toe box area and it can transfer heat or cold rapidly to the feet from outdoor temperatures.

OUR EXPERT ADVICE:

*It is important to note that once a work boot has protected you from a heavy impact or compression, its strength has become compromised. You should replace your work boots immediately, even if there are no visible dents in the toes of the boots after the impact.

Unseen internal fractures that occur in Composite Toe Boots, or unseen bending or denting of Metal Toe Caps will undermine the protective nature of the work boots if needed for future protection.

ASTM protective footwear also have an Electrical Hazard (EH) Rating.

However, EH Rated work boots are only a supplemental form of electrical protection.

Carolina Boot is careful to note the following:
All Carolina work boots that...are Electrical Hazard (EH) Rated are tested by an independent lab to "...withstand applications of 18,000 volts at 60hz for one minute with leakage."

Per OSHA: EH Rated boots are only supplemental.

Electrical Workers need Primary Forms of Protection per Standards: 29 CFR 1910.137; 29 CFR 1910.269(l); and 29 CFR 1926.950(c)"


Outsole Protection

While linemen benefit from wearing boots that protect toes from heavy objects, simply stubbing toes on poles as they climb shouldn't be a concern either.

Carolina Linemen Boots are made with tough rugged leather uppers that are reinforced with extra sheaths of leather over critical areas; such as the sides, the heels and the toe areas. This makes them extra durable.

Working as a lineman can involve carrying heavy cables and equipment across hot asphalt, uneven ground, loose sand and dirt, and sometimes over patches of slick mud. It can even involve tramping through tall weeds and brush to get to a utility pole, or a steel tower, in all types of weather.

The Best Lineman Boots have aggressive outsoles that will provide secure footing no matter how heavy the equipment being carried, and regardless of what type of terrain is being walked over. And the rubber used in the production of the outsoles must perform well under all weather extremes; from blistering heat to frigid cold.

Most importantly, the outsole of a linemen's work boot needs to have a raised, logger-style type heel that can hook over a peg, or over a metal tower rung to keep the lineman steady and balanced while repairing internet cables, fiber optic lines, or electrical wires. The work boot's heel must be strong enough, and secure enough, to anchor the worker's feet in place, so he can safely complete the task at hand.
.


Shank Protection

Linemen work boots must have strong shanks to avoid excruciating pain and discomfort.

If you have ever had to stand on a ladder at home or at work while wearing a pair of soft-soled sneakers, you know how quickly you suffer serious discomfort on the bottoms of your feet. And that pain will also radiate up through your legs and your back. This is because all of your body weight is placing pressure directly down on your sensitive arches that are resting, unprotected, on a small surface area.

Linemen that spend long hours utilizing climbing stirrups on utility poles, or that are standing on metal pegs or hard metal tower rungs would be just as uncomfortable.

To address this, the best lineman boots will be made with extra strong Lineman Shank Plates that are placed under the arch sections of the work boots.

These wider, reinforced shanks can make a big difference in comfort on the job. Some lineman boots even have asymmetrically designed shanks that follow the individual shape of the left and right feet for maximum comfort and support.

True Lineman Shanks are engineered to be wider and more supportive than what you would find in standard work boots. Wider Shanks help to distribute body weight more evenly across the bottom of the boots, resulting in less pressure points, such as on your arches, while at the same time providing greater stability while standing on pegs and rungs. The surface area that distributes your body weight becomes more spread out and better balanced. This helps to alleviate pressure on the sensitive arches of the feet and helps to prevent overall leg and foot fatigue.



The Best Lineman Boots will offer all these protections to minimize any risks and to keep you as safe as possible while on the job.






With all this in mind here are Family Footwear Center's expert picks for:



Carolina offers two USA UNION MADE Black Leather Lineman Pole-Climbing Boots.

They are handcrafted in the United States by skilled leather workers in Carolina Boot's Martinsburg, Pennsylvania facility. Only the finest materials sourced from around the globe are used in the production of these boots, and these linesmen boots are built around a shoe last that is specifically designed to fit an American Worker's foot.

The Carolina American Made Lineman Boot Styles are:


Carolina also makes 2 Brown Leather 10" Imported Styles:


One Final Thought

Linesmen work boots must have very specific features to meet the high demands of this extremely hazardous job. Therefore, it is essential to be wearing the Best Climbing Boots for Linemen that your budget will allow.

These days more and more linemen use bucket trucks to reach power lines and phone wires, but there still comes the essential need to climb poles and steel towers during the course of a workday. Because of this, the quality of a lineman's footwear is paramount for maximum work place protection.

If you work out in the field maintaining electrical power or cable lines, or work doing the construction, installing or maintaining of communication towers and support structures during all sorts of inclement weather, make sure you are equipped with only the Best Lineman Boots by Carolina for the job.

They may just be the most important tool you'll use in this dangerous line of work.



********************************************************************************************************************


7 Best Landscaping and
Landscape Construction Boots

by CARA SPINDLER

Expert Advice on the best Landscape and Landscape Construction Boots
based on safety and performance


********************************************************************************************************************


Real Made in the USA Work Boots
Elusive as a Yeti

by CARA SPINDLER