Posted by Cara Spindler on Sep 11th 2021

Best Logger Boots | Expert Guide to Buying Logging Boots
by CARA SPINDLER
Logging: One of the Most Dangerous Jobs in America
A number of factors come into play that make logging a dangerous profession and wearing the right boots for the job is crucial. A good pair of logging boots can help prevent serious injury and in some cases, even help prevent death.
Logging involves working on difficult terrain, many times in inclement weather conditions. Accidents abound when workers are felling trees that can fall in unpredictable ways, or when the falling trees knock down other nearby trees. Sometimes falling trees dislodge heavy stones, boulders and logs that will suddenly tumble down through a job site.
A high-quality pair of logging boots will have Steel or Composite Safety Toes that meet current ASTM Standards to protect feet from heavy impact and compression, They will also have aggressive multi-directional outsoles that will provide secure footing when needed to move quickly in slippery conditions to avoid injury or death.
Logging is usually done in remote forest locations, where medical aid is far away.
This is why it so crucial for workers to wear the safest protective gear available to protect themselves while on a jobsite. According to OSHA and the Bureau of Labor Statistics in In 2018, logging workers had fatality rates more than 10 times the all-worker rate of 3.5 fatalities per 100,000 FTE workers.
While over time the hazardous job of tree felling, traditionally done by men's hands, has been replaced by the use of massive heavy machinery, it has resulted in the introduction of new potential dangers on logging work sites.
Logging in the United States Began in Jamestown, Virginia in 1607
Today the Logging Industry in America is so vast, that the United States now supplies the world with a quarter of all its lumber, but it had its humble beginnings.
It all started in 1607, with the first settlers having to cut down trees to create what was known as the Jamestown Settlement: the first permanent English Settlement in North America.
Above: A rendering of Jamestown, Virginia; 1607


While logging in America may have started out with the rudimentary use of basic saws, axes, and wedges, today's logging has dramatically changed. Modern technology now involves the use of heavy machinery, such as; harvesters, forwarders and mechanized Sawmills to get the job done.
Despite all the latest technologies available, small independent logging companies still continue to operate in every state across the nation. Regardless of the method used, whether traditional or modern, logging remains one of the most dangerous occupations in the USA and demands the best protection available for feet, ankles and lower legs.
Logging and Work Place Safety
Just how dangerous is the logging industry? Despite its fatality rate, the logging industry has a history of injuries that have occurred to logger's feet, ankles and legs.
According to a pinpoint study done of logging injuries in the Appalachian Mountains, by the Forest Service; U.S. Department of Agriculture: [2]
"Legs, ankles, feet, and toes were the most likely to be injured in logging accidents. The lower body extremities incurred 38.5 percent of all injuries."

Of these, the most common Leg and ankle injuries are: cuts and lacerations, fractures and bruises.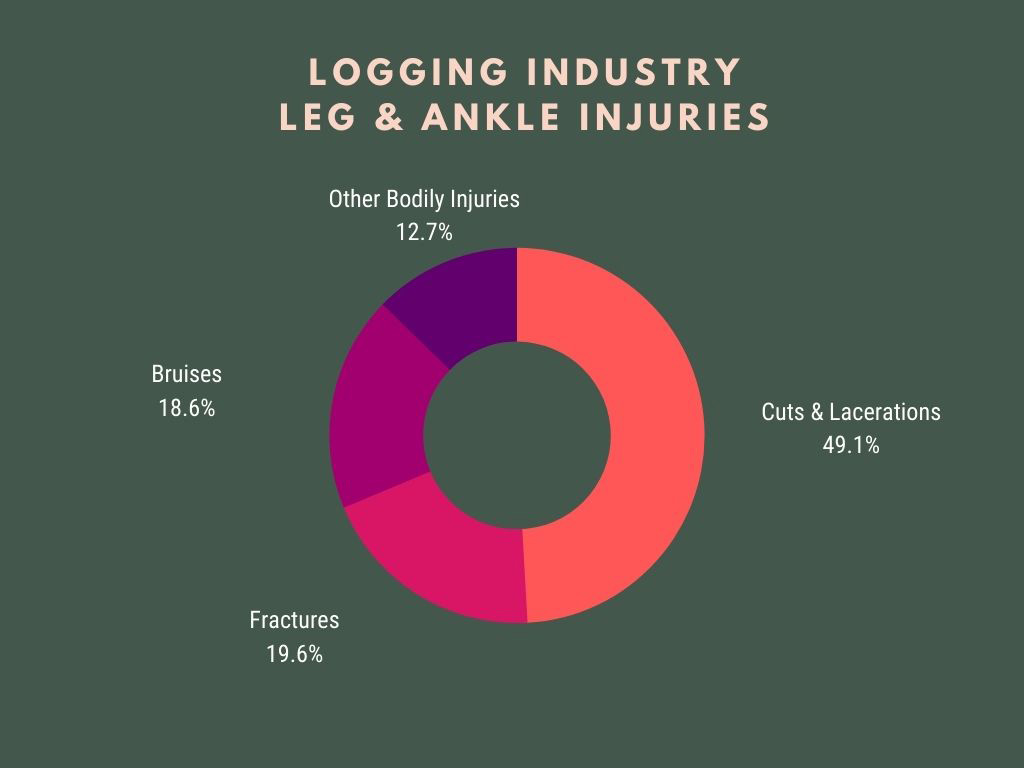 Logger Boots Offer the Best Protections
Because of the serious need for safety, logging boots are engineered to be one of the most protective styles of work boots that you can buy on the market today. They have steel or composite safety toes, aggressive outsoles for traction and tall 8" or 9" leather uppers that help protect bruises to the calves while providing stability and to guard against cuts and scratches when working in thick forest undergrowth.
The Need for Aggressive Outsoles

The following statistics highlight the need for quality outsoles to prevent falls, which counted for slightly over 1/10 of the total Injuries in the logging industry:
Falls From Elevations
This involved those falling from elevated surfaces while unloading trucks, or climbing on or off loaders, skidders and other equipment.
Falls Due to Poor Traction
While working on dangerous terrain, workers became injured when stepping into holes, tripping over stumps, logs or branches. or when slipping on wet leaves, bark, or loose rock and while running away from erratically falling trees.
Falls from Machinery
When workers were loading and unloading trucks, or setting chokers, or bucking logs, feet had become pinned or crushed.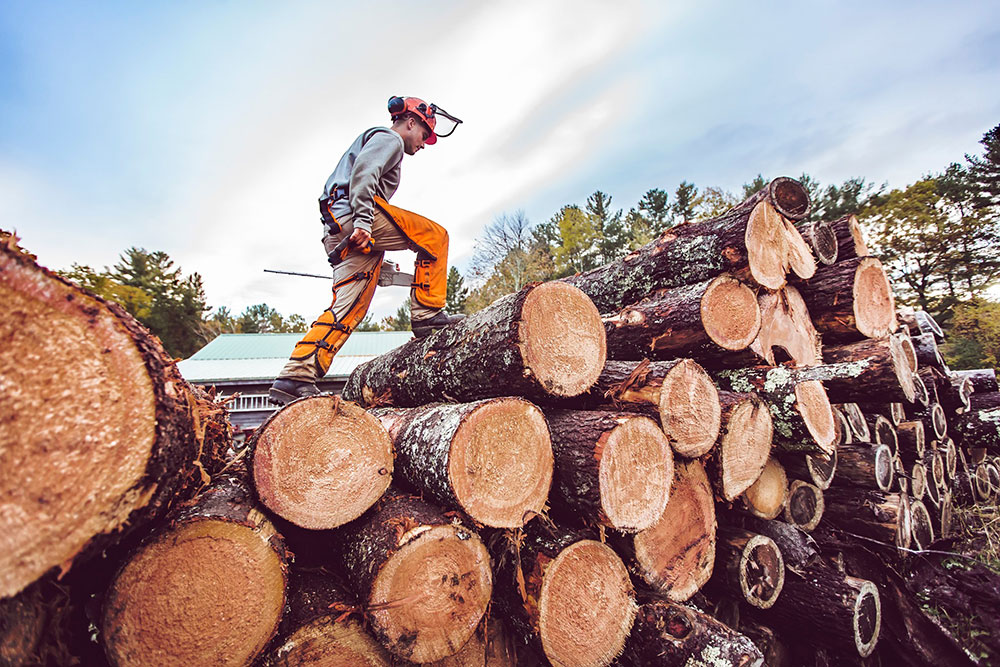 Quality logging boots with safety toes and heavy duty outsoles help prevent serious incidents such as:
Poor Footing on treacherous terrain that can lead to slipping
Foot Slippage while climbing on and off heavy machinery
Footing dislodged by logs rolling out from under feet
Compression from massive dislodged logs rolling directly over the feet
Impact from logging equipment, such as chainsaws and axes, being dropped onto the feet
Logging, from start to finish, encompasses many different jobs.
Todays logging industry involves the following occupations: Equipment Operators, Truck Drivers, Yard Workers and Sawmill Operators, that are all at equal risk for foot, ankle and leg injuries.
Logging boots are made to specifically address the routine safety issues that these workers face on a daily basis. The boots are scientifically engineered to provide maximum protection against a variety of hazardous job mishaps, as well perform well under treacherous outdoor elements, like rain, mud, sleet, ice and snow.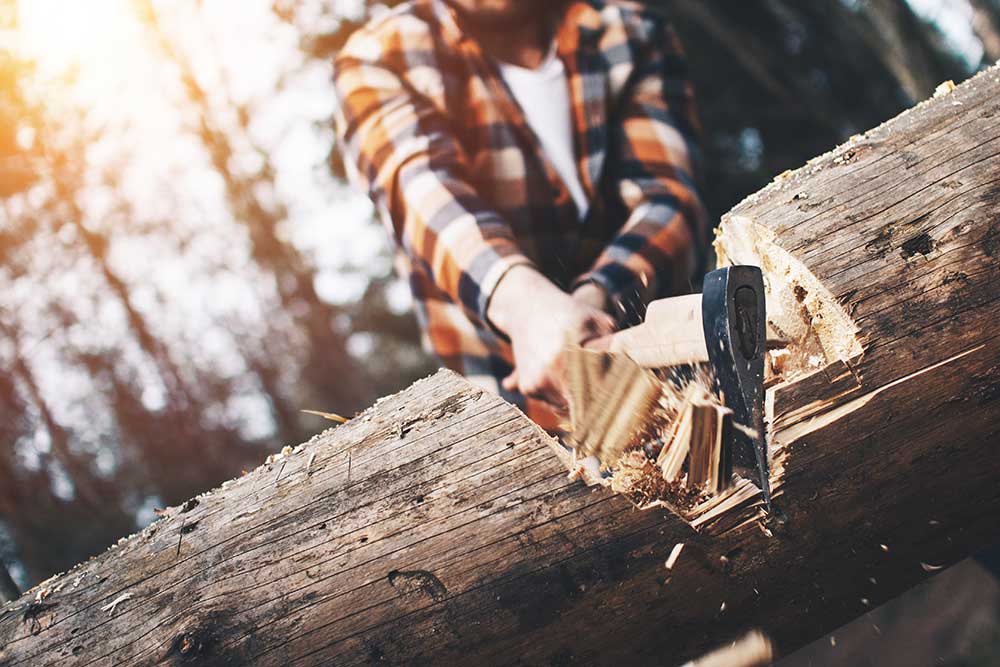 Above: A Tree Feller cutting down a tree. Logging has many stages each with its own host of perils.


The Many Stages of Logging
Marking Trees to Fell
Felling Trees
Delimbing
Transporting Logs to Sawmill
Bucking
Debarking
Processing Logs through Chippers
Storing of Products at Lumber Yards

OSHA Follows ASTM Standards for Logging Boots
OSHA, the Occupational Safety Heath Administration, sets the federal regulations for all work industries across the USA, including logging boots, which falls under PPE (Personal Protective Equipment.)
Since foot injuries are so inherent to the logging industry, workers must be outfitted with work boots that meets OSHA's rigid PPE safety standards. Logging companies are held responsible for making sure their workers wear the proper safety footwear. Failure to do so will result in heavy liabilities and extensive monetary fines.
An international organization known as ASTM does extensive research and testing of all types of products. This includes safety footwear. OSHA relies on their expertise when determine its PPE regulations for American industries.
OSHA requires logging boots to meet or exceed the current ASTM safety standard F-2412
Logging Boots that meet this standard will protect toes from:
Impact = The footwear can tolerate a force of 75 lb being dropped down onto the Safety Toe Cap
Compression= The Safety Toe Cap can handle a crushing compressive force of 2500lbf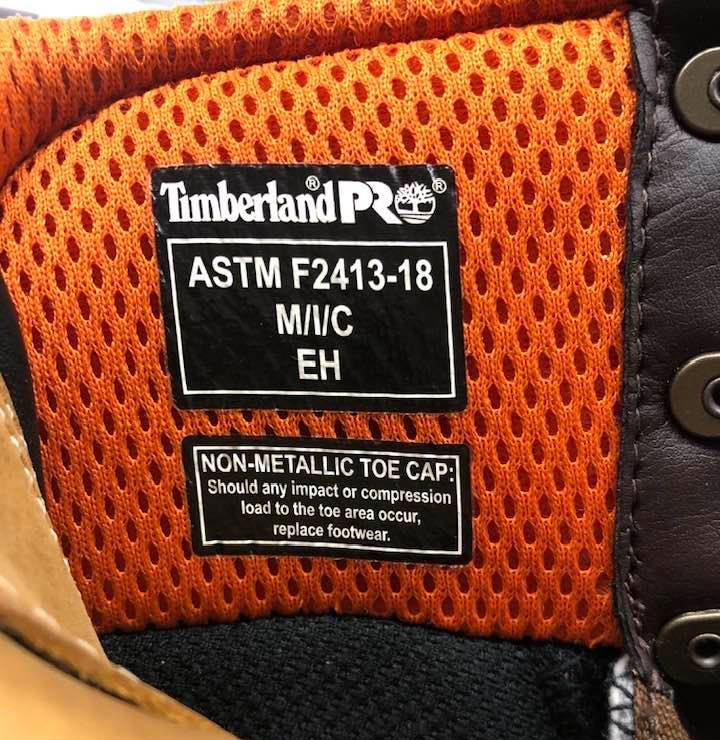 Logging boots meeting OSHA Standards have the ASTM standard clearly marked on the inside

Work boots that fail to meet these standards may result in foot and leg injuries, maiming, and serious life-changing disabilities that might lead to amputations.
These injuries are caused by the dropping or swinging of heavy equipment such as; chainsaws, axes, tree limbs that might drop down onto the feet, dislodged rocks and boulders, heavy logs that can roll over the tops of the feet, and motorized vehicles that might roll across the foot.
Anatomy of a Logging Boot
A well-made pair of Logger Boots will have a defined set of safety features. Pictured below are are the key components that make logging boots so uniquely protective..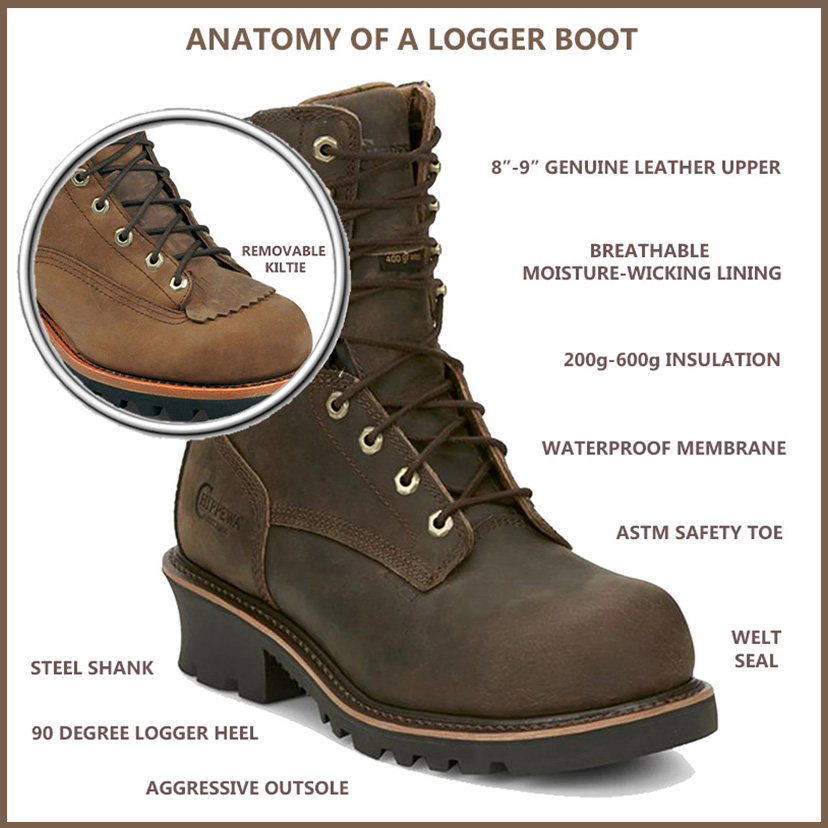 Key Logging Boot Features
Safety Toes
Logging Boots must first and foremost have safety toe protection that must meet the current ASTM Standards. Today's loggers have safety toe caps that are made of Steel, Composite Materials or Alloy, that all work equally to protect your feet from injury.


Logger Heels
The first thing you will notice about a logging boot is the design of its heels. They are raised to provide clearance under the arches of the feet. This provides the boots with the ability to lock onto tree branches and logs to assure stability on the forest floors.


Steel Shanks
Strong Shanks, usually Triple Ribbed, provide a stable platform in which to lock onto undergrowth on forest floors. They also protect the arches of the feet from damages as loggers walk across the forest work site.


Aggressive Outsoles
In a dangerous wooded work environment, it is paramount to have secure footing. The logger boot outsoles must have deep lugs that can dig into mud, dirt and debris, especially in wet, icy, or snowy conditions when it can become wet and slick. Logger boot's Multi-Directional Lug Pattern Outsoles provide traction regardless of the direction you are walking in, be it an upslope, a downslope, or on a slope using a sideways step.


8" - 9" Leather Uppers
Logger boots have genuine leather uppers that are tall to help protect the ankles and lower legs from scrapes and scratches that occur when walking through dense underbrush. They also provide an extra layer of structured protection around the ankles, guarding against any ankle rolling, or twisting.


Waterproofing
It is important that a logger's feet stay dry on the job. Water inside logger boots can cause dangerous foot slippage deep within the boots. Since a logger works in all kinds or wet weather conditions, their logger boots should have a good quality internal waterproofing system that will seal out water 100%.


Insulation
Loggers are known to work through the colder months and insulated boots become a necessity. Most loggers will have a pair of non-insulated logging boots for the summer and a second pair of insulated logging boots for the winter. However, some loggers will use a logger boot with a minimum amount of 200g insulation year-round in the field.


Roomy Toe Box
When loggers work on their feet all day, it is normal for their feet to swell by the end of the day. Logger boots that offer roomy toe boxes will make sure there is ample room and help stave off any foot cramps.


Breathable Moisture Wick Lining
Logging Boots will have a comfortable lining that is engineered to be breathable, so feet stay dry and healthy on the job. An excessive build-up of dampness within a pair of logging boots can lead to foot slippage within the boots and the the growth of unhealthy bacteria deep within the boots.


Kiltie
Kilties are just small, extra swaths of fringed leather that lay under the laced areas of the logging boots. While they may be small, they they matter a great deal. When trekking through the underbrush in the forest, dirt, sand, tiny pebbles and small twigs can work their way into the boots through the tongue area of a pair of logging boots. Kilties will guard against any of this type of debris from entering into the boots.



Logging Boots: Not Just for Loggers
Logging Boots are one of the most popular, sought after work boot styles in the United States today. The reason why is simple: they will provide you with the ultimate in safety, comfort and performance.
If you are actually in the logging industry, you will find that logging boots are not just an option: they are a necessity. But a good pair of loggers may be the best work boots for any job site where serious protection is needed.
If you work in the landscaping or construction fields, in carpentry, on a road crew, or in any other type of blue-collar profession, there are solid benefits to wearing logging boots on the job.
American Made Logging Boots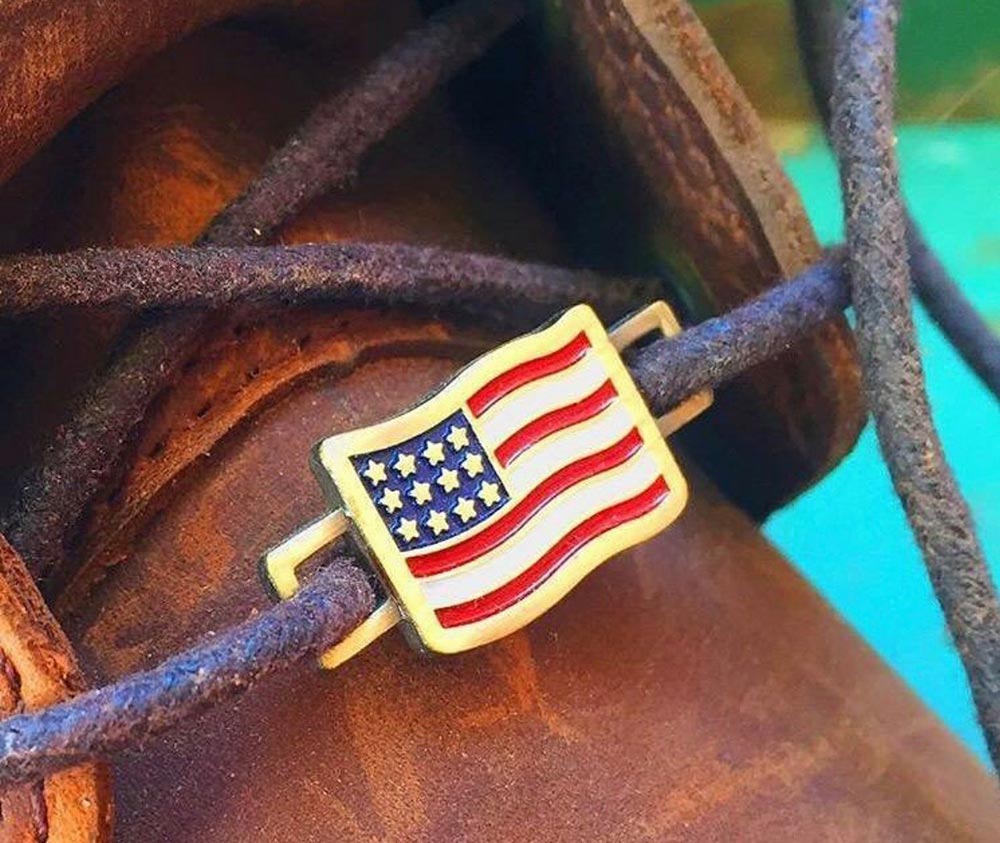 Above: Chippewa Boots showcase an American flag on their laces

True USA Made work boots put American pride and integrity into the making of each pair of loggers. The result: quality made boots with an exceptional fit, tailored to fit comfortably around a real American working man's foot.
It is important to know how to tell if your work boots are truly made in America, by true American workers. Some say finding real USA Made work boots is as rare as finding a Yeti, but you just have to know what to look for.
Get the Real Scoop on Finding Real USA Made Boots Here.
The Best Logger Boot Brands

The Carolina Boot company has been around since 1963 and states their boots are "Built for Work." According to Google Search results, they are the most searched for Logger Boots in the USA today.


Chippewa Logger Boots
Chippewa has been around since 1901 and their logo is "Chippewa. The Best, By Far." Their popular line of "Super Logger Boots" are the gold standard in the logging industry today.


Georgia Logger Boots
Georgia Boot says their boots are built for "America's hardest working people." They engineered and patented a 3 Layer "Comfort Core System." The first layer provides cushioned shock absorption, the second has heel and arch support and the third layer is made of soft, memory foam that conforms to the shape of your feet.


Carhartt Logger Boots
Carhartt has been in the business since 1889, making protective work boots and workwear for the American worker. They make 8" Climbing Logger Boots that are specially designed for those who need to climb ladder rungs to climb up to operate heavy machinery. Their aggressive outsoles are also made to provide traction on loose sand, gravel and uneven ground.
Timberland PRO Logger Boots
The Timberland PRO Ripsaw Logging Boots offer protection from top to bottom, They have an increased height of 9", asymmetrical-shaped safety toe caps and flexible non-metallic puncture-resistant plates. their outsoles offer superior traction in rock-based environments.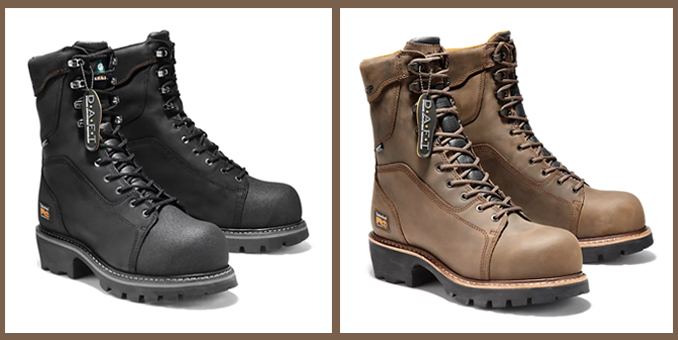 Pictured Above: Timberland PRO's Ripsaw Logger Boots
Rocky Logger Boots
The Rocky 9" Square Toe Loggers have a uniquely shaped toe box. They have Square shape that provides the forefoot and toes with the extra room they need when they tend to swell up towards the end of a long work day. This feature helps to reduce cramping in the foot and the legs.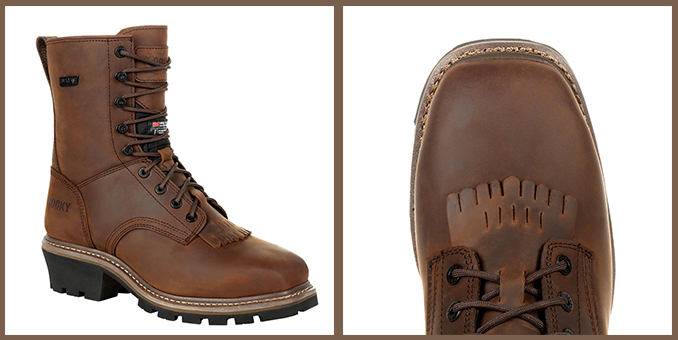 Pictured Above: Rocky's Square Toed Logger Boots


Final Thoughts
Whatever your job may be, purchasing a pair of Logging Work Boots will provide the utmost in foot protection, because they must meet the most stringent worldwide ASTM standards for work boot safety and have OSHA approval. From strong genuine leather uppers to their deep lugged 90 degree outsoles, an investment in a high-quality pair of loggers will serve you well on any jobsite.

Citations:
[1]Bureau of Labor Statistic, National Census of Fatal Occupational Injuries 2018 https://www.bls.gov/news.release/archives/cfoi_12172019.pdf
[2]US Forest Service; U.S. Department of Agriculture: https://www.fs.fed.us/ne/newtown_square/publicatio...