Posted by Cara Spindler on Jun 1st 2023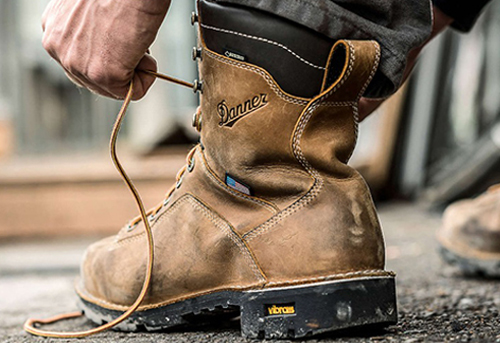 Best Landscaping and Landscape Construction Boots
by CARA SPINDLER
Landscapers and Landscape Construction workers are a special breed.
Not just because their jobs have them laboring on their feet all day, but because they are always working outdoors in the elements
Landscapers and Landscape Construction Workers need rugged work boots that can handle whatever Mother Nature chooses to throw at them. Because finding a work boot that fits their specific needs can be a chore, Family Footwear Center has some expert advice to help you find the best work boots for these heavy duty jobs.
With the Landscape Construction season upon us, here is all the expert advice you need for choosing the right boots, based on safety and performance.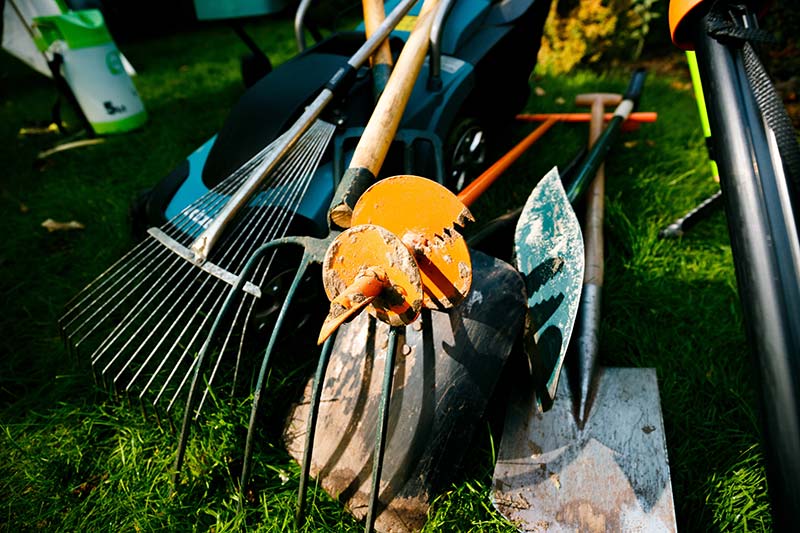 Landscape Construction Boots Should Meet the Following 5 Criteria:
Staying Dry - Landscaping Work Boots Need a Waterproof Membrane

Landscaping work boots have to handle walking through the dewy wet grass in the mornings, then suffer the drying effects of the hot afternoon sun. On those days when the rain and sun alternately come and go, it can be especially tough on leather work boots.

When a leather work boot gets wet and then dries out continually over and over again, it can cause the boot's leather uppers to become stressed, and then crack relatively quickly.

You should invest in work boots that have waterproof leather uppers.

If not, make sure you self-treat your work boots with a waterproofing cream or spray, prior to wearing them on the job. Since technology has come a long way, be sure to follow the boot manufacturer's specific recommendations on what type of waterproofing you should use on your particular boots.

But that's not enough.

In addition, your work boots should have a state-of-the-art waterproofing system that effectively seals out water, to make sure that your feet stay completely dry.

Most major work boot manufacturers have designed their work boots to have an internal waterproof membrane built right into the lining of their boots, and they are so seamless and comfortable ...you won't even know it's there!





The science behind the waterproof membrane is simple.

A waterproof membrane is a one-piece, impenetrable liner that water cannot get through, but air can still flow into and out of the boots.


Tiny air holes in the membrane allow tiny air molecules to easily pass through into the boots and circulate around the feet, while the much larger water molecules simply cannot fit through.

Staying Safe - Landscaping Work Boots Need a Protective Safety Toe

Whether you will be running lawn mowers, using weed-wackers and hedge clippers, or doing much heavier landscape construction work, it is important to invest in landscaping boots that have safety toe protection.

Working with heavy bricks, Belgium blocks, wheelbarrows of cement, or driving and working around backhoes and dump trucks make a job site dangerous.

Just stop by any landscape construction site and ask the workers there how often they were grateful they were wearing boots with a safety toe. They will no doubt have stories to tell about serious injuries they avoided because they were wearing protective safety toe boots.




ASTM Approved
Work Boots Protect Feet

ASTM is an international organization, formerly known as American Society for Testing and Materials, which sets the worldwide safety standards for job site safety gear, including safety toe work boots.

This standard helps to protect worker's feet from the impact or compression that might be caused by a heavy object dropping or rolling over the feet.

Once a work boot has protected you from heavy impact or a compression, its strength has been compromised and the work boots should be replaced immediately, even if you do not see any visible dents in the toes of the boots.

While there are different types of materials that safety toe caps can be made of, the use of steel is the most traditional.

However, steel safety toe caps do have their disadvantages.

Steel is heavy and adds weight to a work boot
Steel is thick and tends to cramp space in the toe box area
Steel will conduct heat or cold into the boots

Modern-day technologies now provide light weight safety toe choices.

Safety toe caps that are made out of composite materials, alloys, or even aluminum will provide the same strength and protection as steel, but without the added weight or thickness.

Staying in Control - Landscaping Work Boots Need a Traction Outsole

Working as a landscaper or in landscape construction brings its own set of concerns. You need to take into account that you will be walking over varied terrains, such as loose sand and gravel, wet grass, dirt piles, and concrete.

The outsoles of your landscape boots will need to be able to handle all these different surfaces on dewy mornings, hot dry days and also on wet rainy days.

Secure footing is not an option, it is a necessity, especially if you are pushing a wheelbarrow full of 100 lbs of dirt up a wooden ramp. The grip of your work boot's outsole is everything.

Some work boots come with official slip-resistant outsoles that meet the standards that are set for slip coefficient on different inclines, under different slippery conditions. Work Boots and Shoes that officially meet this standard are stamped slip-resistant on their outsoles.

Staying Cool - Landscaping Work Boots Need to Be Breathable

The weight of a work boot is extremely important to landscapers and landscape construction workers.

The hot sun can tire workers out, so the lighter the weight of the boot the better. The best choice for a landscaper's work boot is one that is either non-insulated or unlined.

This applies even if you are working on jobs into the Autumn.

Even though the weather may be getting cooler, hard work creates sweat inside of leather boots.The work boots you wear will most likely still be non-insulated at this time and it is essential to keep feet cool, deep down within the boots.

Most non-insulated work boots will have a soft lining inside that is both breathable and moisture-wicking, which work together to keep feet cool, dry and comfortable.

Unlined Boots, a favorite of many landscape workers who work into the Fall months, do not have an interior lining. Instead, they will have just raw, slightly rougher leather on the inside of the boot shafts, where the leather hide has not been completely smoothed down.

Many landscapers and also many landscape construction workers opt for unlined boots, but for added comfort will use wool-blend socks that do not itch, and that act as their moisture-wicking layer that will keep their feet cool and dry in the hot months, yet warm and dry in the colder months.

Staying Comfortable - Landscaping Work Boots Need Cushioning and Arch Support

Sufficient cushioning and adequate arch support in a landscaping boot are essential to help absorb shock and to guard against foot pain and fatigue.

The level of comfort of a landscaping boot will come down to your individual needs.

Everyone's feet are different. Some workers have a lot of natural padding under the balls and heels of their feet, and some do not, and the amount of foot padding can change over time with age, or as we put on weight.



Proper arch support
helps prevent foot fatigue.

If you find your feet are generally hurting you by the end of a workday, try removing the boot's insoles and replacing them with after-market ones, such as Spenco Insoles. (pictured above) to provide just the right amount of arch support that your feet need.

Landscape workers that suffer from specific gait or posture issues may need to use their own custom-made orthotics in their work boots. If so, we suggest you look for work boots that have removable insoles, so you can easily swap them out with your own.









7 Best Work Boots for Landscaping and Landscape Construction
***********************************************************************************************************