Posted by Cara Spindler on Aug 7th 2017
Penn State Students Find Education in the Most Unexpected Place

A group of Penn State students turned a rainy day stop at our Family Footwear Center's Manchester Store location into a surprise learning opportunity!
Our in-house American Board Certified Pedorthist, Gretchen Lima, took the opportunity to do an impromptu Shoe Clinic for these students complete with a professional foot measuring for each of them.
"Our students were enthusiastic and eager to learn about their feet and healthy shoe options. They were grateful for the experience and gift of a Love Rock for their journey," said Lima, adding it was a "great way to spend a rainy day!"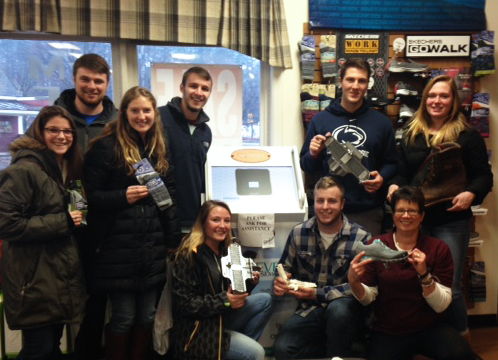 Gretchen Lima, seen pictured above with the students, is well trained and well educated in the functions of the foot and how this relates to footwear and orthotics. She specializes in the proper shoe fitting of both children and adults, as well as for diabetics and those suffering with temporary, or chronic, foot pain and ailments.
Schedule your Free Consultation and Analysis with Gretchen at
Family Footwear Center, 4578 Main Street, Manchester Center, Vt. 05255
For more information, or to schedule your free consultation, please call 802-362-4378.