Posted by Cara Spindler on Feb 9th 2016
Pedorthist Gretchen Lima Joins Our Manchester Store Location
by CARA SPINDLER
MANCHESTER, VT – Family Footwear Center is pleased to announce that Certified Pedorthist Gretchen Lima is available to help assess your footwear needs, at our Manchester Vermont Store location.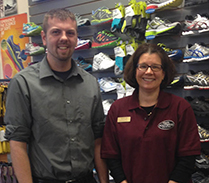 Pictured above: Manchester Vt. Store Manager, Josh Denio welcomes Gretchen Lima, Certified Pedorthist.
How Can a Pedorthist Help You?
Certified Pedorthists are very important to foot health. Because many people suffer from a lot of foot ailments, shoe makers take the time to design footwear that helps feet feel good. The right shoe or boot can help restore, or encourage, proper foot function, can prevent further damage, or can just improve overall comfort.
What is Pedorthic Care?
Pedorthic Care is routinely prescribed by medical professionals for many different reasons. It is the specific management and treatment of the feet and ankles that are affected to some degree, by injuries, overuse, congenital defects, and even diseases. Our In-house Pedorthist Gretchen Lima can assist you in finding just the right footwear to fit your specific needs.
How Will Gretchen Assess My Personal Footwear Needs?
Gretchen will professionally measure both of your feet, with an old world Brannock Device. This type of device measures both of your feet to learn the proper length, width and arch length, of each foot, which is crucial in determining the size and the width of the footwear that you need.

Gretchen will discuss with you, and listen carefully, to what your specific foot ailments are. This dialog helps her to understand what specific support you need to get from your footwear.
Gretchen will shop with you, directing you to footwear that will not only feel good, but that will also help ease your personal foot issues.This includes common foot troubles like Plantar Fasciitis.and Bunions.
Why Does The Footwear We Choose Matter So Much?
In stressing why it matters what we wear on our feet, Lima explains:
"Our feet are the foundation of our body and also have an impact on our knees, back and neck. Wearing the proper footwear can significantly improve our comfort and quality of life."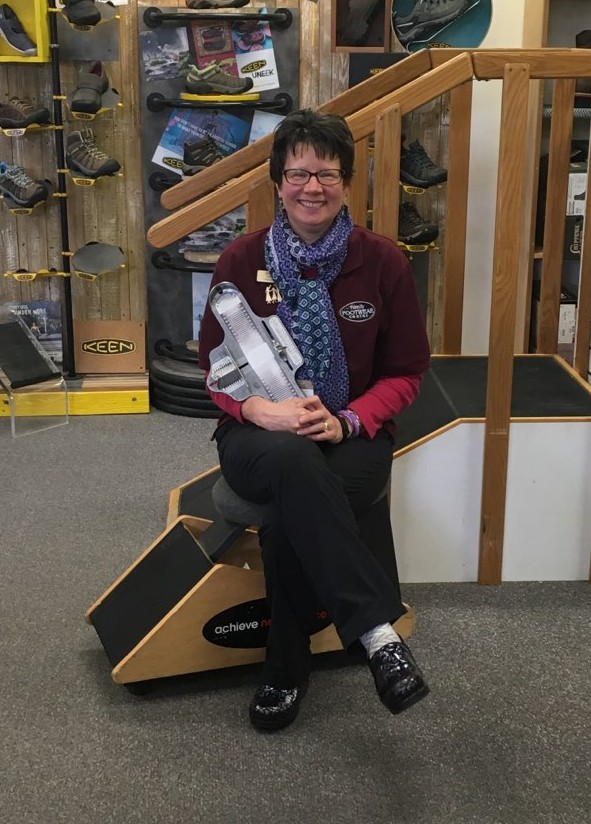 Certified Pedorthist, Gretchen Lima, joins our Family Footwear Center store team.
Read the announcement of Gretchen joining our staff in the Manchester Journal.
What is Gretchen Lima's Expertise?
Gretchen received her Pedorthic Certification in February 2010 from the Eneslow Pedorthic Institute in Manhattan. She has studied, and is well-trained, in the biomechanics of the foot, including how this relates to our shoes and orthotics.
Most noteworthy, Lima has done additional training with Aetrex Worldwide Inc., through Orthofeet's Pedorthic Courses, also with Masterfit Biomechanics, Lab Technique, and Quadro's Step Functional Gait Analysis.
How Often Should We Measure Out Feet?
Since the size of our feet changes over time, it is recommended that you measure your feet often.

Read our Insider Secrets to Finding Shoes and Boots that fit here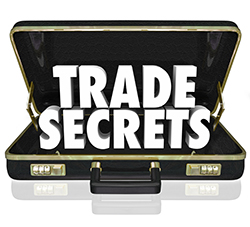 Feet can flatten out as we age, as we incur injuries, or as we experience lifestyle changes such as pregnancy. These events can decrease the height of the arch of the foot. This results in an increase in the length of the foot against the ground. Therefore, for example, it is not uncommon for a foot size to change from a size 9 to a size 10 or larger.
A good rule of thumb is to measure your feet every time you buy a new pair of shoes.
Does it Matter Where You Shop For Work Boots and Shoes?
Going to an Old-Fashioned Shoe Store is the best way to be fitted for comfortable work boots and shoes. If you consult with trained professionals, like all our employees at Family Footwear Center, you can assure that you will know the proper size of your feet when purchasing your next pair of work boots, Shoes, Athletic Sneakers and Sandals. And this goes for adults, as well as for children!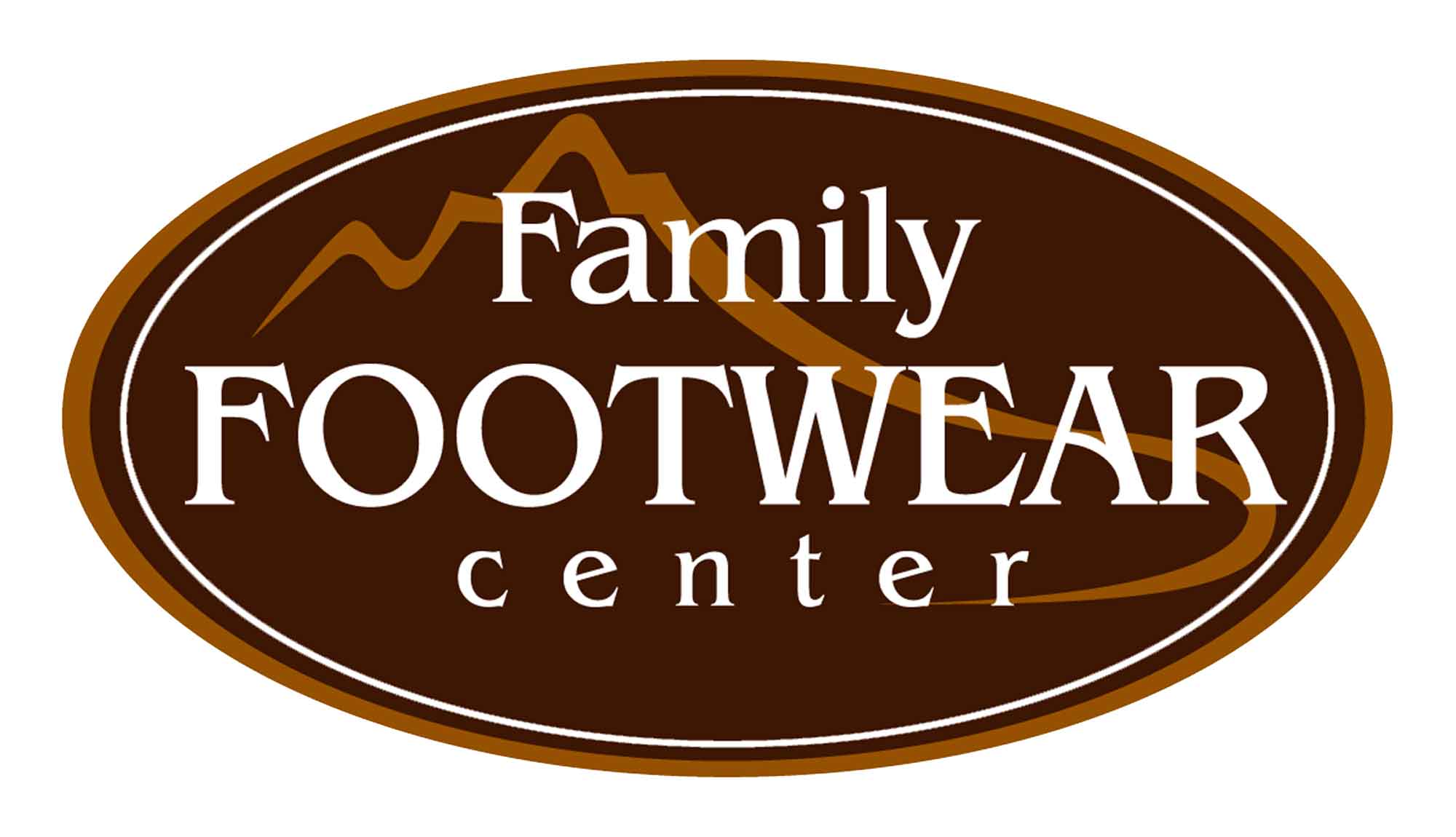 Family Footwear Center is not just about selling you shoes. We are about fitting you for the right shoes. And trained store employees, and a Certified Pedorthist like Lima, can professionally assist people with specific foot ailments; such as those who are diabetic, or that suffer from any type of mild, or chronic, foot pain conditions..
Free Consultations are Available!
Set-up your free consultation with Gretchen Lima, she can help make your feet happy!
For more info, or to set your appointment by phone
please call our Manchester Vermont Store directly at 802-362-4378.