Posted by Cara Spindler on Sep 4th 2023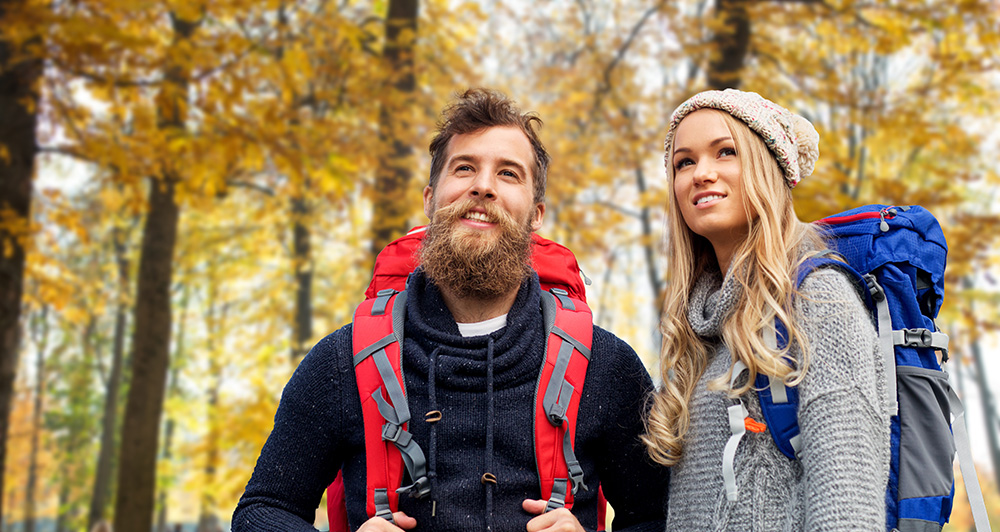 Best Fall Hiking Boots | Expert Guide to Buying Hiking Boots
by CARA SPINDLER

Finally...
That one early morning arrives where you feel that insatiable urge to gear up for a real hiking adventure.
Your mind quickly dismisses thought of hiking down your favorite tried and true trails that you know like the back of your hand. You become determined to throw on your favorite hikers and get off the beaten path to discover new, more remote locations.
As the morning unwinds, it becomes invigorating to envision yourself veering off the well-worn hiking trails in your favorite state park, or to imagine yourself back-packing deeper than you ever have within your favorite local mountain range.
Maybe this is the year you will take up a new challenge; such as spending a long weekend to venture into the Green Mountain Forest of Vermont, or to trek up the popular Appalachian Trail.
Plans begin to form in your head of the exciting adventures you will take, via way of your trusty feet. But are your hiking boots ready to keep up with your hiking ambitions?

Here is the expert advice you need for choosing the right hiking boots for all your invigorating hikes.
A Hiker Is Only as Good as Their Gear
As any adventurer knows, having your gear being in top working condition is critical for a safe and productive journey.

This includes your hiking boots or hiking shoes, which are the most important piece of hiking equipment that you will have with you on the trails.

You need to stay safe in the wild and your boots are key to preventing any slips and falls that might result in an injury.
Make Sure Your Hiking Boots are in Prime Condition
Like your favorite pair of running shoes, work boots or summer sandals, hikers will last only so long. And depending on your personal hiking preferences, your hikers may wear out faster in one respect over another.

Do the outsoles wear out much faster than the interior cushioning? Does the arch support of your hikers flatten out before the bottom treads of your hikers wear down?

Check out your hikers at the beginning of each season to make sure they are still in good shape. Worn-out or broken down hikers, whether inside or out, can be uncomfortable, non-supportive, and downright dangerous on mountainous trails.
Exterior Check of Hikers
Do you hike over rough terrain; such as: loose and gritty sand and gravel? Do you trek through dense forests? Perhaps you take hikes that involve climbing over rocks? If so, you may find that your hiking shoes quickly wear out on their soles faster than they do on the inside.
Before your next adventure, check for tears on the uppers that may have gotten snagged on unyielding foliage, or for rips that may have been caused by sharp rocks and ledges. Assure that the laces do not appear to be worn, or frayed, since they are what keep your hikers secure. And carefully examine the outsoles for the loss of sufficient tread. Any breakdown of these key features could spell disaster on the trail.
Interior Check of Hikers
If you are planning on hiking for any significant length of time, comfort is going to be key.
The arch supports, linings of the side walls, footbeds and overall cushioning of your hikers are critical to your hiking endurance, so make sure that the interior components have not broken down, which could lead to very little shock absorption and much agonizing foot fatigue.
Stability is also key here. Make sure that the wall structure of your hikers is still strong and supportive. It guards against the accidental twisting or torquing of the foot while hiking over more challenging, uneven terrain.
Check the Fit of Your Hikers
To be at your very best when hiking, make sure that your hikers from last season still fit your feet properly.
The last thing you want to feel midway through your hike is soreness in your heels, pain in your arches, or the onset of blisters and calluses.
Keep in mind that your feet will change overtime due to; weight gain or loss, collapsing arches, pregnancy, and even a variety of foot health ailments,

Therefore, it is important for you to get your feet professionally measured at the beginning of each hiking season at a local shoe store like Family Footwear Center.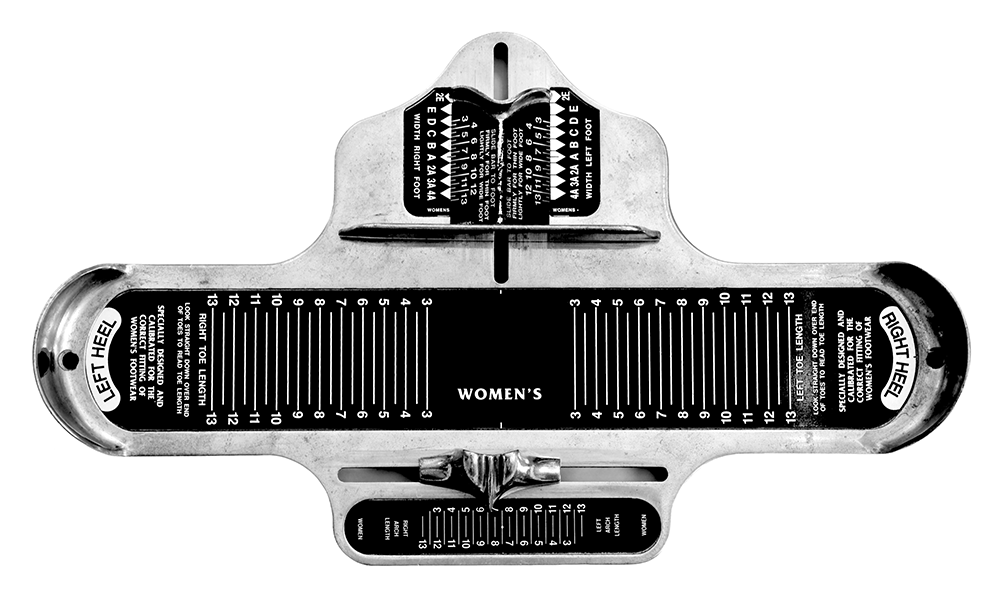 Above: At Family Footwear Center store locations, an old-world Brannock type device is used to accurately measure customer's left and right feet.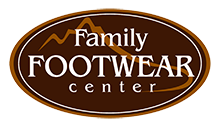 Below: Family Footwear Center employees professionally measure the foot length, width and arch length of both feet to make sure you are buying proper fitting footwear.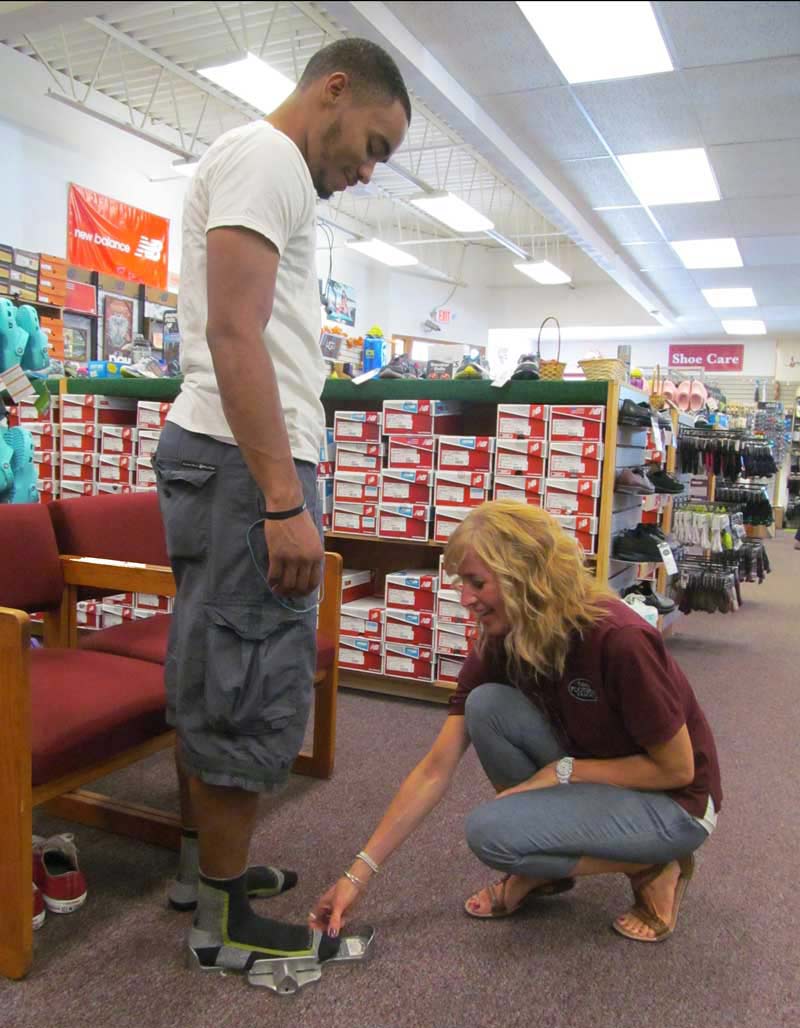 *FIT TIP*

Getting the Right Fit is Critical for successful and pleasant hikes, so it is wise to have both your feet measured when being fitted for your hikers. Most people have one foot that is slightly bigger than the other and you need to have hiking boots or shoes that will accommodate the largest one.

Best Waterproof Hiking Boots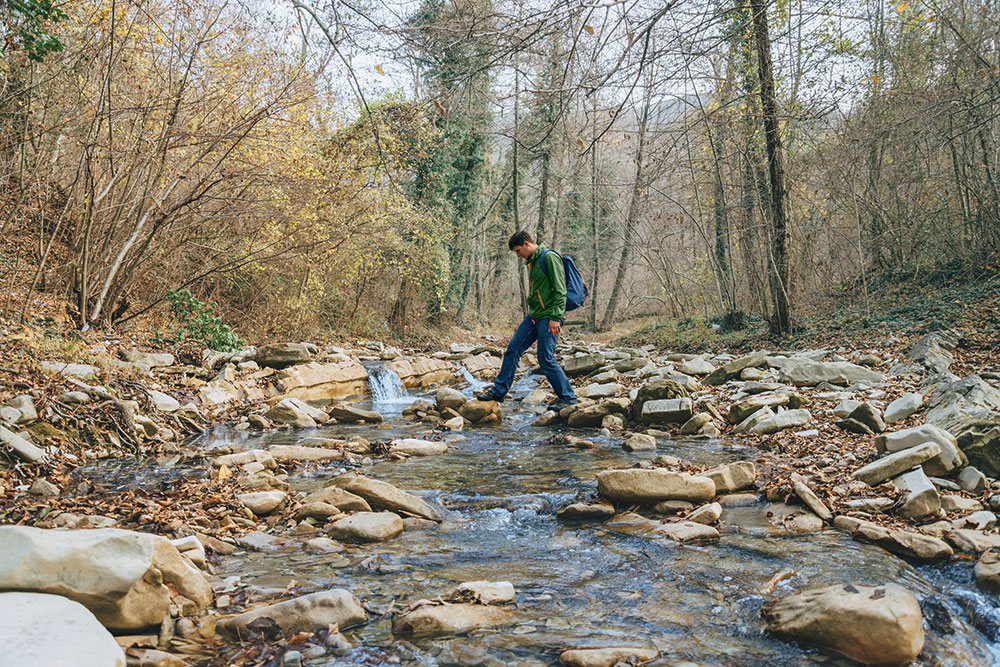 Above: Today's waterproof hikers have a seamless, built-in waterproofing system.
A good precaution is to purchase well-made hikers with seamless, internal waterproof membranes.

Top quality brands such as; Merrell, Danner, Keen and Timberland have engineered extremely modern waterproof technologies.

The result is ultra-thin booties, that are sandwiched between the linings of their footwear. This comfortable, state of the art weatherproofing will seal out ice, rain, snow and water 100%, while still allowing for good air circulation around the feet.

Weather and Hiking Trails Can Often Be Changeable.

Mother Nature is fickle. Your hiking footwear should have solid waterproofing in the event you encounter short rain bursts, or sudden full-on downpours on the trails.

You might also find, unexpectedly, the need to cross fords or small streams as you hike through a forest.

Hikers with internal waterproof booties will enable your feet to stay nice and dry no matter what the hiking conditions, or the physical requirements, of the paths you chose to adventure down on a cool Autumn day.
Best Insoles for Hikers
Hiking Boots and Hiking Shoes do not just get wet on the outside. Sweat plays its part.

Moisture takes its toll on hiking boots on the inside as well as the outside. Hiking Boot Insoles will break down more readily if they are left in a continually damp state.
If you are hiking every day, you should have two pairs of hikers to alternate between.

However, that may not always be practical or even possible. If you are on a month long vacation trek, or on a three day weekend hike, carrying along an extra pair of hikers would be cumbersome.

As an alternative, keep an extra pair of insoles on hand.

Carrying an extra set or two of insoles will not weight you down, and are a simple replacement to keep feet dry and comfortable when on a Fall hike.
After a long day of hiking, simply pull out your hiker insoles and replace them with a fresh pair of insoles for the next morning. This gives your just-used insoles a full day of rest, for any excess moisture or sweat to evaporate.

Allowing your insoles to fully dry out, before having to be used again the next day, is a great way to extend the life of your hikers and to keep them feeling fresh on the trails.
Best Brands of Hiking Boot Insoles:

Hikers Need Serious Outsoles
Nothing is worse than a slip or fall injury on the trail, so pay close attention to the tread of the outsoles when purchasing your hikers. Compare the outsoles of all the hikers sitting on display on the shoe store shelf and choose hikers that have the deepest lugs.
Multi-Directional Lugs are Best for Maximum Traction

Whether you are directly hiking up or down slopes, or stepping down inclines using cautious sideways steps, multi-directional lugs outsoles will provide you with the traction you need, in the direction you need it.

They will also have the dig-in traction necessary when hiking over rain-soaked, leaf-covered forests, or when climbing up slippery, muddy slopes that you will encounter out on the trails.
Kid's Hiking Boots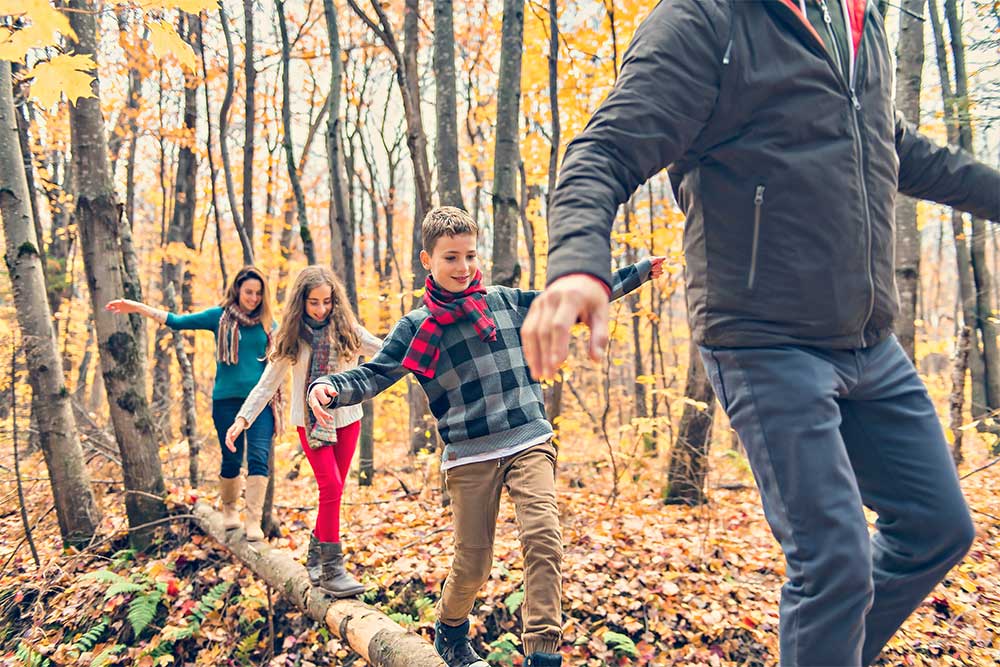 Above: Proper Fitting Boots are Crucial for Children That Hike
When purchasing hiking boots for kids, keep in mind that little feet are always growing.


It is important for kids to have enough room in their hikers to prevent tired, achy feet and to assure that their is no interior slippage that could lead to painful blisters.

If your children will be hiking with you, bring them to a shoe store that will measure both of their feet before you purchase their hiking boots.
When you go to the store to buy your children their hikers, be sure to go at the end of the day when feet naturally tend to swell and need the most room to be comfortable.

Bring along the exact pair of socks your child will be wearing on their hikes, to gauge if there is ample room in the footwear for the sock's thickness. Have your children spend time walking around the store with them on, to be sure they feel good. Once home, have your child wear their hikers for a few hours indoors around the house as well, to assure they are feeling comfortable after wearing them for a period of time.
Most shoe stores will accept returns for fit, provided the footwear has not been worn outside.
Hiker Styles
Depending on your type of hiking adventures and your preferences, you may want a pair of low hikers, mid hikers, or perhaps heavy backpacking boots. Choose your hikers based on the needs of the environment you will be hiking in and any weather conditions that you may encounter.
Backpacking Boots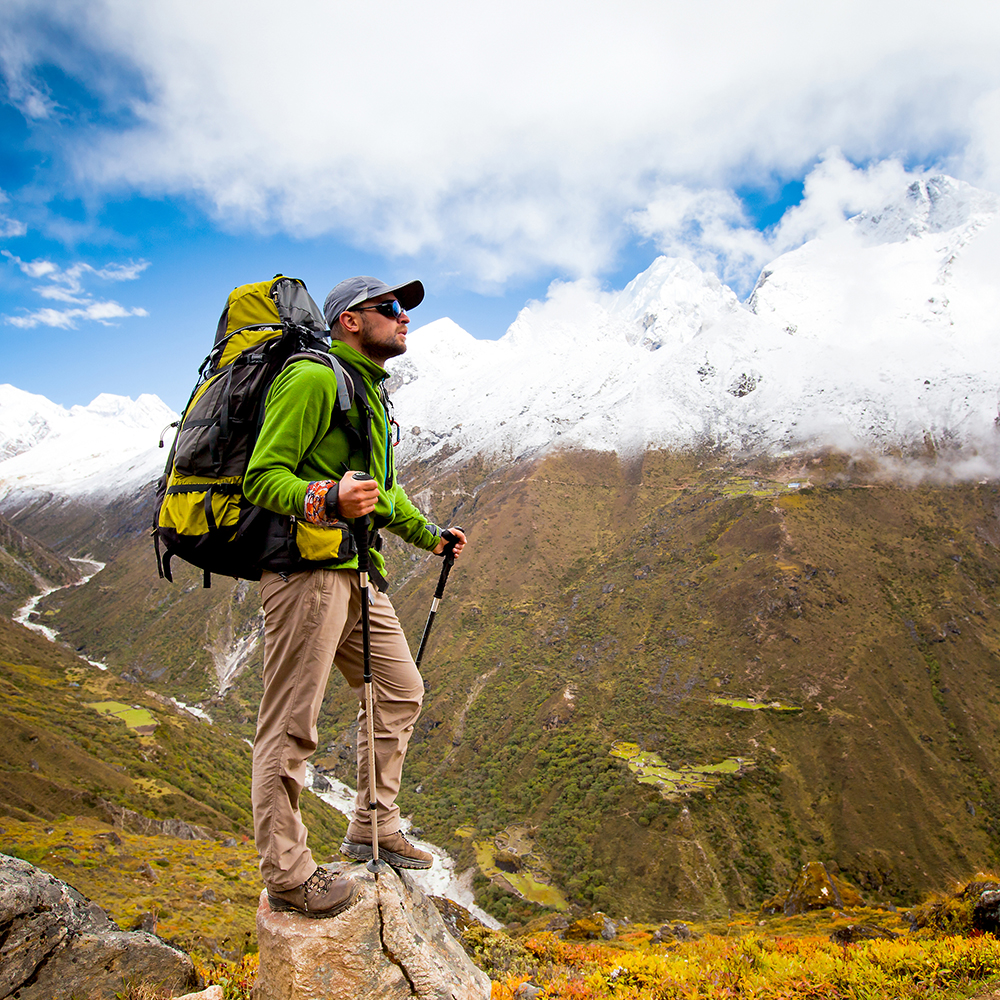 Above: Backpacking Boots are made to support heavier weight

Backpacking Boots are Made for Serious Hiking Adventures
Not only must the boots support your body weight, but they must also hold under the added weight of your heavily laden backpack filled with equipment, all the while traversing over rough, unforgiving terrain.
Generally, backpacking boots are built to be extra tough and rugged, having a wider, sturdier base than regular hiking boots. This is because they have to perform well under heavy pressure and provide greater balance and stability for the hiker.

Quality backpacking boots will have an interior that will not break down easily. Extra layers of cushioning will have been added, along with strong supportive shanks, to ensure serious support comfort on your most serious hikes.
Lightweight Hiking Boots
The Weight of your Hiking Shoes is a Personal Preference.

Many people who trek long distances on full-day hikes, or hikes that last over the course of a few days prefer lighter hiking boots or hiking shoes to guard against foot fatigue.

However, there are others who prefer heavier hiking boots, because they seem to feel more protective around their feet and ankles..

The best hiking brands will provide the same protections in all of their hiking boots, whether heavy or lightweight.

Well made hiking brands have developed advanced technologies that pack many of the same protections of their heavier hikers into their lighter weight models.

Whichever weight boots or shoes that you choose for your hike, check its features before you buy them to ensure they are up to the challenge of your next exciting Fall time adventure.
Low Hikers vs Mid Hikers
Most hikers prefer a lower cut hiker in warm weather, and a mid height hiker in the fall and winter months, But it really comes down to your own personal preference.

Do you prefer a lower cut profile, so that your ankles do not feel encumbered? Or do you prefer a mid hiker even in the summer, because you like the feel of the extra support around your the ankles?

The only way to determine what is best for your is by trial and error. Experiment with different styles till you find what feels the most comfortable to you on your outdoor journeys.
Low Hiking Boots
Low Hikers are a great choice for hot weather.
Low cut shoes will weigh much less than medium height hikers would and they allow you to wear lower cut socks, which helps keep feet cool.
Because your ankles will be more exposed, low hikers are a good option if you generally hike on open paths in a forest or nearby park , or if you enjoy day hikes on city streets.
Mid Hiking Boots
Mid Hikers are a great choice for cooler weather.

Their mid height, when worn with taller warmer socks, can help to keep ankles warm.

For those who trek through forests, fields, or in areas with dense underbrush, the taller height of mid hiking boots will provide you with an extra bit of protection from getting scratched by plants, branches, or twigs.
High Elevation Hikers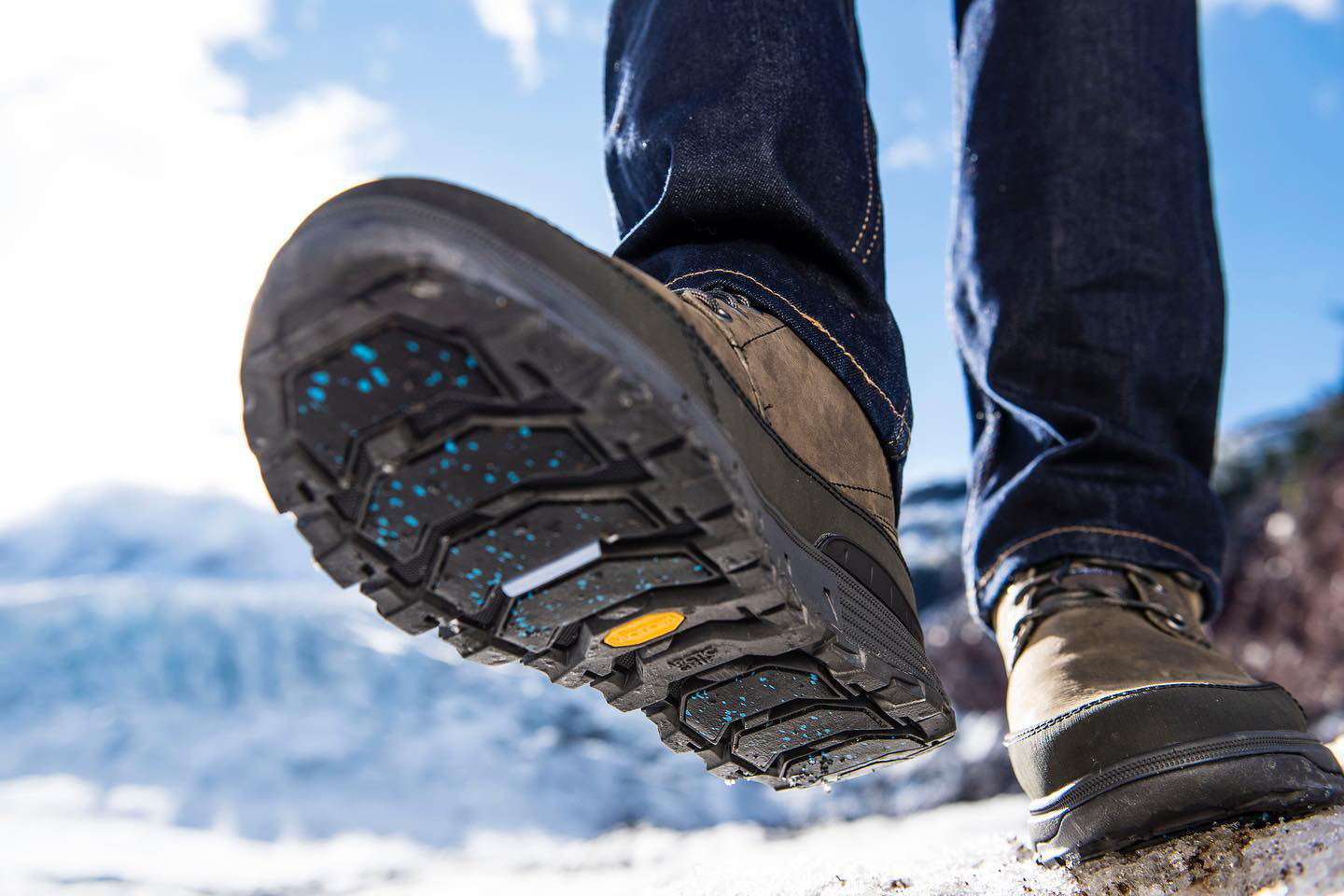 Above: Vibram outsoles with arctic ice-gripping traction
A sunny, mild day-hike may turn into an icy, snowy one as your elevation increases.
If you plan on hiking up mountains that have a high-altitude temperature shift, wear hiking boots that have outsoles made with advanced technologies geared to maximum traction.

Ice-gripping rubber outsoles, some made with actual diamond chips embedded in the rubber, are made to tackle treacherous weather. They provide excellent grip on icy, or wet/icy surfaces and are a worthy investment for staying safe on the trail.
The Best Brands of Hiking Boots
Family Footwear Center carries the best brands of hikers. We carry top quality boot brands that provide you with the comfort and safety features you want and need to assure a successful hike.
Hikers - The Best Brands Out There
Here are the top four brands recommended when shopping for your next pair of hiking boots or hiking shoes.

They have the most up to date technologies you need, along with the trendy styling you crave, to get you hiking with confidence on any trail.
Final Thoughts
The proper fit and style of your hiking boots, or hiking shoes, will determine the success of your hiking journeys.

Because the weight of your success is quite literally centered on your feet, a pair of top quality hikers should be the most important investment you make when purchasing your hiking equipment.
Happy Adventuring!