Posted by Cara Spindler on Jul 15th 2023
LEATHER WORK BOOTS | Expert Guide to Buying the Best Leather Work Boots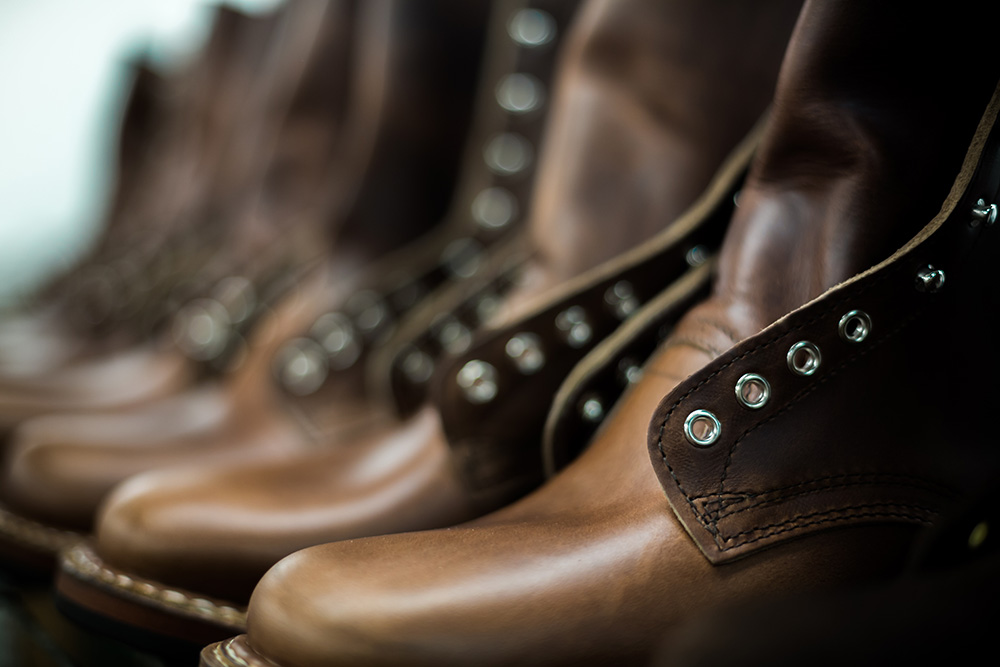 If you work a rugged demanding job, especially under harsh working conditions, you must have a pair of leather work boots that are quality made. Ones that will last you throughout an entire work season without breaking down or falling apart.
Inferior work boots, made with cheap or thin leather, can easily be punctured ripped and torn, have the leather wear through across the toes, or have their outsoles begin to pull away from the boot's uppers. And nothing is more frustrating than spending your hard-earned money on a poorly made pair of boots that need to be replaced within just a few months.
In order to find a pair of boots that will work as tough as you do, you need to know what to look for when making your purchase, beginning with the selection of the hide used and the production method employed, right up to the finishing of the product.
In the work boot industry you get what you pay for.

With that thought in mind, it is important to know that a well-made pair of work boots, such as those that are Handcrafted in the USA, are going to be more expensive than a machine-made pair of work boots, but the upside is that they will last much longer than a cheaply made, imported style of work boots.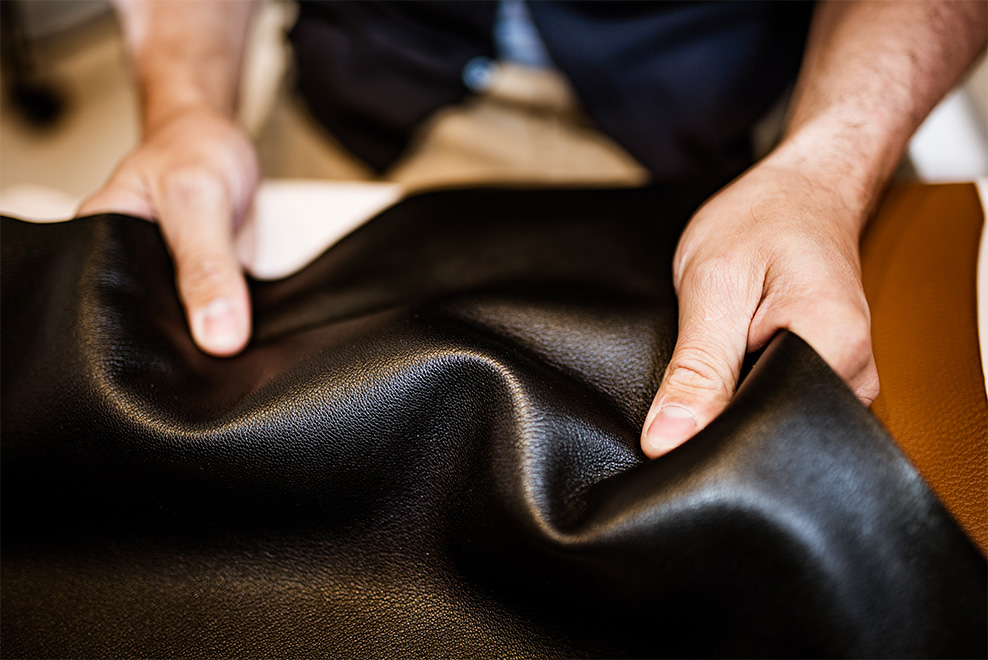 The cost of a pair of good leather work boots is determined by a number of factors.
It starts with the quality and the thickness of the cow hide, the tannery selected, the tanning method used in prepping the leather and finally, the specific production process used to make the boots..
Tanneries
The Leather Working Group (LWG) states they are the "number one globally recognized brand representing responsible leather sourcing to the industry and to consumers." They provide audits and certifications to tanneries based on best practices in the tanning industry. Gold, Silver, Bronze Medals are awarded to tanneries that meet these environmental-friendly standards.
If the industrial world's impact on the environment is important to you, purchase your work boots from manufacturers that get their leathers from these highly-rated tanneries.
Tanning Methods
Tanning is a process that takes raw leathers, such as cow and pig hides, and prepares them to be used in the production of work boots, work shoes and other leather products. Before any production is begun, the leather is cleaned and softened by being placed in huge rotating barrels that soak and lime the hides.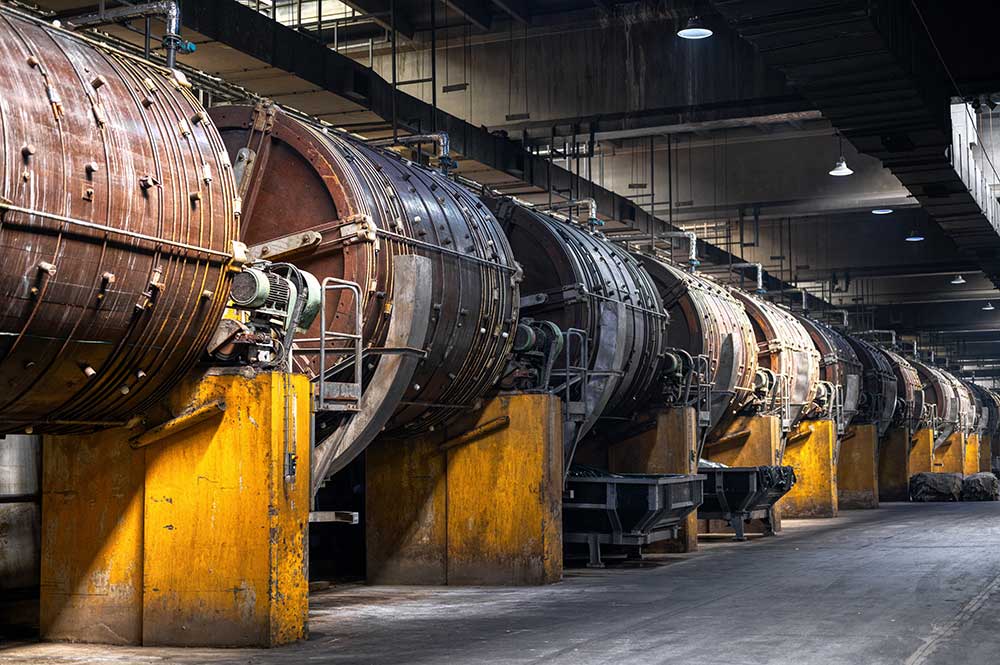 There are two major ways used to prepare leather to be turned into products:

1).Chrome Tanning

Chrome Tanning uses Chromium Salts to tan the leather. It is the most common, and also the fastest way to tan leather hides. 80% of leather is tanned using this method. It is a simple that prepares the leather in just a few days.
2).Vegetable Tanning
Vegetable Tanning is used in approximately 10-12% of all tanneries across the globe. It is environmentally friendly, as it can utilize approximately 300 different plant species to prepare the leather hides. This process is less used than Chromium salt tanning, because preparing the leather this way can take up to 20-30 months.to complete.
Steps in the Tanning Process
There are many steps in the tanning process, each one equally important as the others.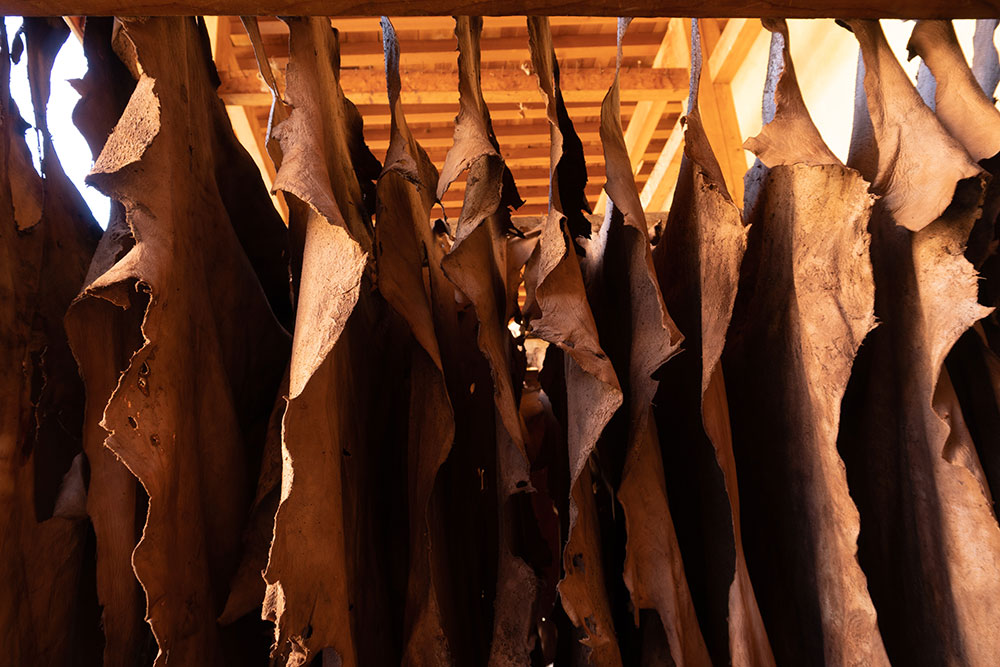 General Procedure for Preparing Leather Hides for Work Boots:
1). Soaking and Liming
Washing the leather to remove any dirt, hair and impurities and to relax any folds in the hide.
2). Pressing
Pulling the leather through a press squeezes out the excess water from the washing process and helps to stretch the leather.
3). Splitting
The leather hide is horizontally separated from its underside, creating a layer of smooth leather and a layer of suede
4). Shaving and Trimming
The whole hide is shaved down to create a uniform thickness across the entire piece and then trimmed on the edges
5). Dyeing
Adding dye to the leather gives it the desired color, but also helps to create softness and give the leather longer wear
6}. Drying and Conditioning
A variety of methods are used to remove any remaining water in the leather after which the hides are hung from a conveyor belt in a temperature-controlled environment.
7). Staking
Machines are used to beat and pound the leather for additional softness.
8), Buffing
This step is used for Nubuck and Suede finishes.
9). Finishing
This is the final step to assure the quality and the look of the of the product before it is sent out to wholesalers.
Hand Made U.S.A. Work Boot Production
A work boot's upper is first shaped around a boot last. A last is a rigid form shaped like the human foot. Generally, USA made work boots are shaped and tailored around a last that is sized to the standard American worker's foot, with a generous, comfortable fit. Imported models made in overseas footwear factories tend to use foot lasts that are much smaller and more narrow than an American worker's foot.

Once the boot's uppers are fitted around the boot lasts, the Insoles and Midsole are incorporated, followed by the Outsoles, which are attached as the final section of the work boots. Finishers will then add the laces and inspect the leather boots for any defects that might have occurred in the production process, before shipping them out to retailers across the country, or throughout the world.
Leather is precision cut in for production and given to Leather Crafters who shape and build the boots.
In the United States there are just a handful of footwear factories that are staffed with true Leather Craftsman, who have been trained in the art of boot making. Footwear companies that employ these artisans place a high value on their leather expertise and the high quality of their finished work.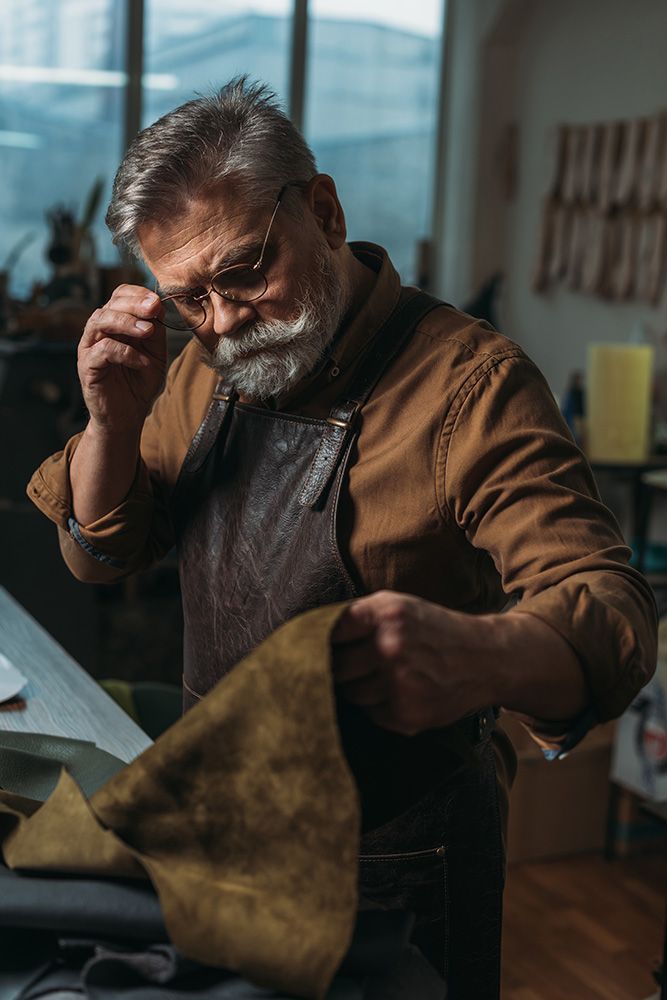 U.S.A. Made factories incorporate thick, premium grades of leather and other quality components in making their work boots; such as top-quality midsoles and world-renown Vibram outsoles.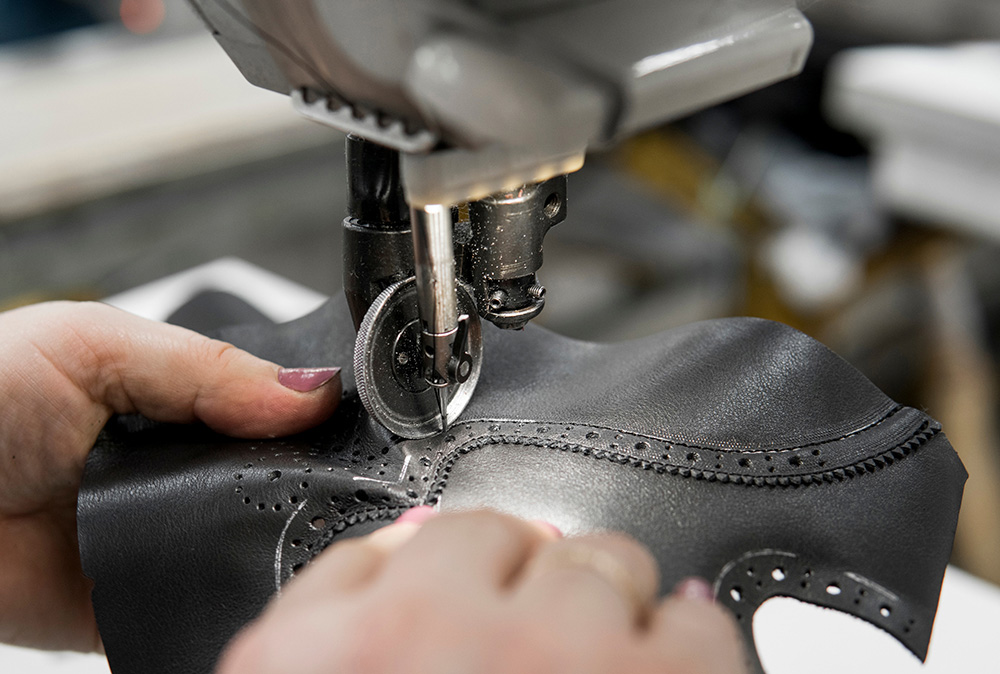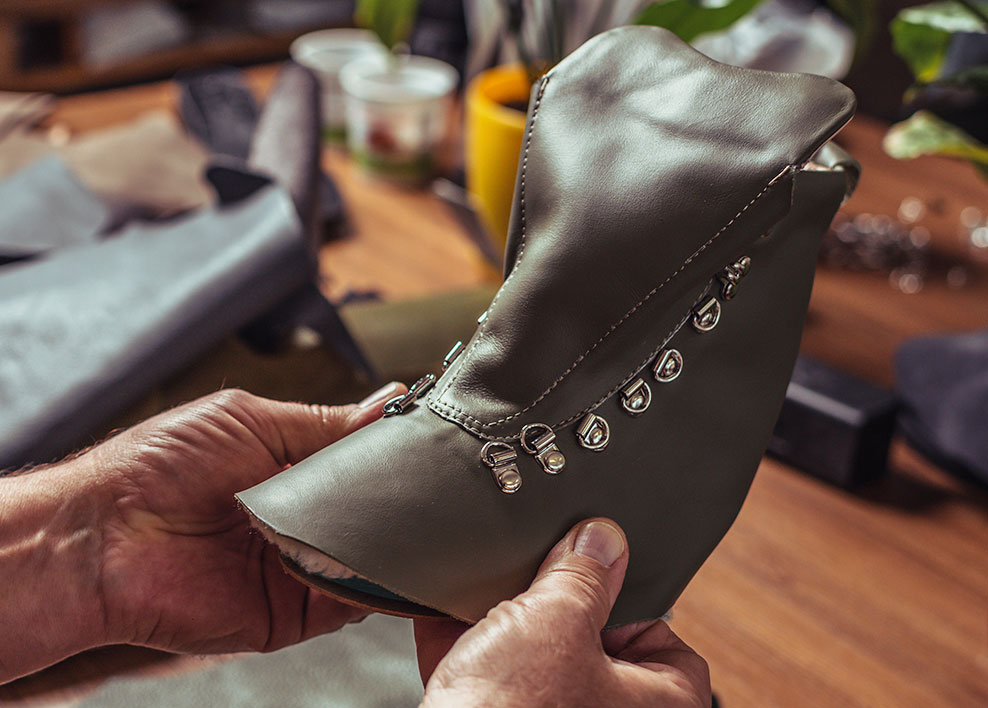 The leather-crafter's attention to every detail, right down to the stitching, results in USA Made work boots that are built tough, durable and made to last, making them worthy of their premium price.
Automated Work Boot Factories
In a modernized, automated boot factory, production workers will oversee computerized machines that will produce much of the work boots. After the leather materials are cut to size, the assembly process begins. Because of the speed of the process and the lack of individualized time spent on each boot, they will sell for a much lesser price,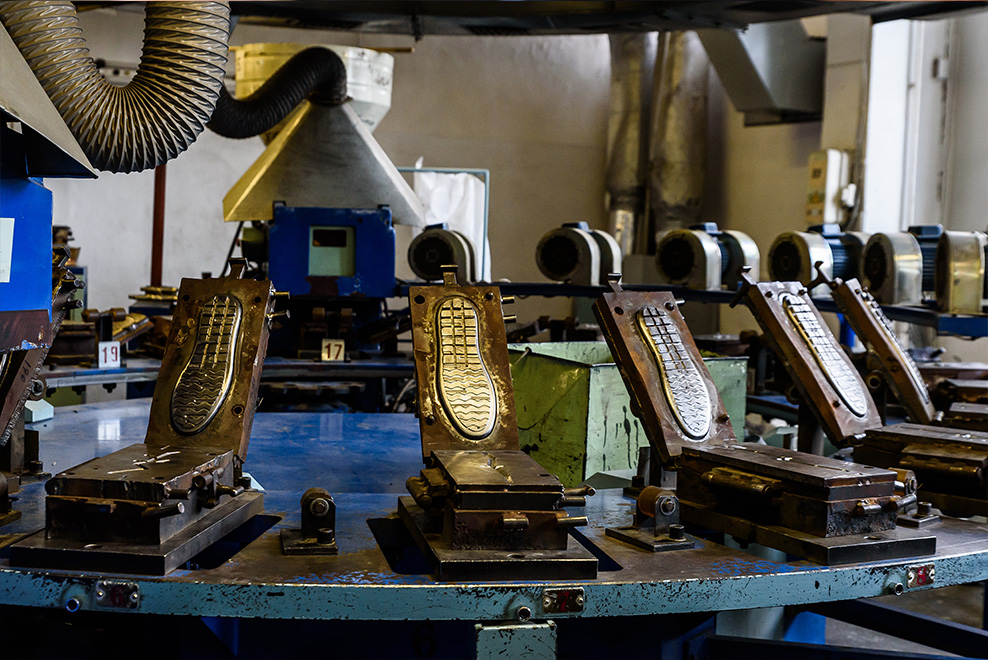 Choosing the Best Leather Work Boots
The outcome of the tanning process determines the quality of the leather used in the production of a pair of boots.
Premium boots are made with more expensive leather that is thicker and that will wear better overtime. Top-of-the-line leather will also be evenly dyed and be free of any spots, mars, or blemishes.
It is not uncommon for major boot manufacturers such as Carolina, Timberland and Danner to reject any deliveries of leather that do not meet their high-quality standards. Even if it sets back the production of a line of work boots for a few months, they will refuse to use the sub-par leather and will await a new shipment to arrive to replace it.
Most men will initially choose a work boot by its components; such as its safety features, waterproofing and insulation properties.
Secondary to that would be the boot's appearance: such as the color, or look of the leather. For men, most work boots are produced in different shades of brown leather, or basic black
Leather can also be produced in a variety of textures and finishes, such as having a smooth leather look and feel, or having a distressed, or rougher, pebbled finish.
But one major consideration should be the quality of the leather used, and where and how the work boots were made. Look for USA Made work boots that are hand-made in whole (or at least in part) by skilled leather craftsmen assures that the boots will be made with the finest leather, that is thicker and will wear better over time.
Better leather is tear resistant and some boot manufacturers, such as Danner, will allow enough extra leather material so you can resole them at a later date, to extend the life of the boots. The stitching will also be a better quality to assure longevity and lasting performance even on the toughest job sites.
Work Boots for women adhere to the same principles as they do for men.
Quality is always key, but boot manufacturers will make work boots and work shoes for women in additional colors, rather than just the traditional black and browns. It is not uncommon to see leather work boots for women sold in colorful shades of blue, green, or even purple and pink.
Regardless of the color, the best leather work boots for women will be made of premium leather that is thicker and more durable than a thinner, cheaper grade from a tannery.