Posted by Lynn Smythe on Mar 26th 2020
The Perfect Running Shoes | Guide to the Best Running Shoes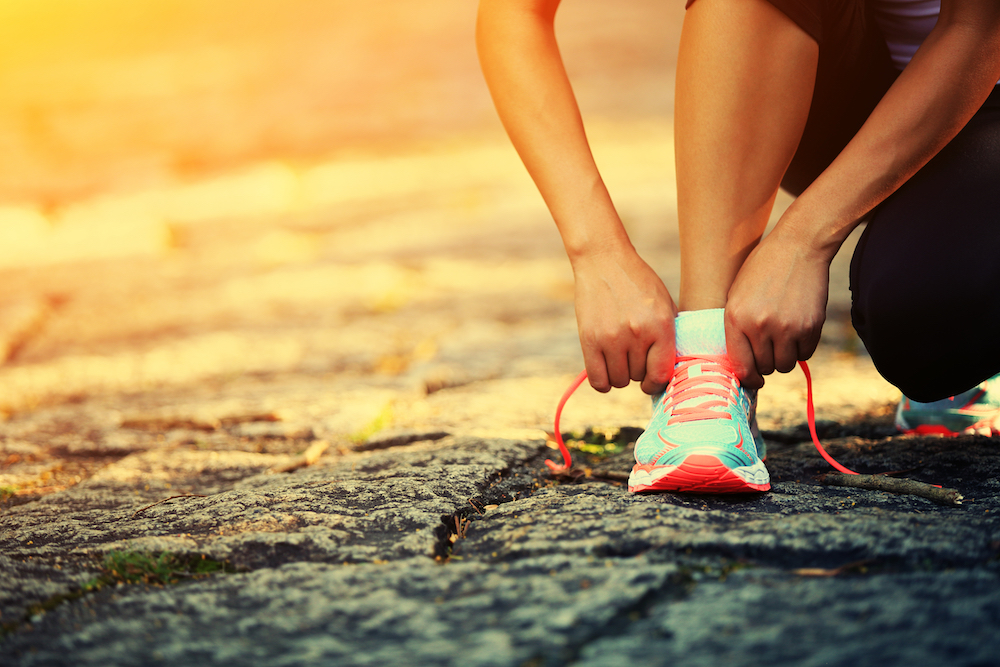 by Lynn Smythe
Shopping for the Best Running Shoes
Warmer weather is finally here, making this the perfect time of year to buy a new pair of sneakers, cross trainers, hiking shoes or trail running shoes if it is time to replace your old running shoes. If you enjoy running on paved roads, cement sidewalks, dirt roads, muddy canal trails, gravel park access roads or pine covered paths in the woods, Family Footwear Center has the perfect running shoes for you.
Read our Family Footwear Center Running Shoes Finder to learn all you wanted to know about finding the perfect running shoes.
Jogging Sneakers or Trail Running Shoes
First, you need to decide on what type of shoe you need - do you mostly jog, walk, hike, or train using the Jeff Galloway Run Walk method? Your local shoe store is the perfect place to shop for a great selection of different styles of walking shoes, road running shoes, trail running shoes, water sandals and light hiking shoes.
You can find a variety of athletic shoes, running shoes for men and running shoes for women at our five Family Footwear Center retail stores and our e-commerce website. While the exact selection varies from store to store, common running shoes brands available online and in-stores include:

Above: Shop for Hoka, Under Armour, Brooks and New Balance at your local footwear center.
What Size Running Shoes Do I Need?
Here are some great shoe fitting tips if your are wondering how should running shoes fit. Many people do not realize that running shoes fit differently compared to other types of shoes - they are actually a bit short compared to other shoe styles. While you may wear a size 8 in flats, Dansko clogs, or dress shoes, you should size up one half to one full size when trying on running shoes.
A quick way to check if you are wearing the right size is to take the insoles out of your current shoes, if they are removable and place them on the floor in front of you. Then stand on top of your inserts and take a look at your feet. You don't want your toes spilling out over the inserts, as this is a sure sign your shoes are too small.
TRY ON ALL THE RUNNING SHOES!
Another reason why you might want to size up your sneakers and running shoes is that your feet have a tendency to spread out and/or swell up when you run. You need to have at least one fingers width of space between the end of your longest toe (it is not always your big toe) and the ends of your shoes. So, if your toes are squished up against the end of your shoes, this means you are actually wearing shoes that are too small.
Certified Pedorthists, like Gretchen Lima, recommend getting your feet measured every time you buy new shoes. Gretchen is a shoe fit specialist working at our Family Footwear Center store in Manchester, VT, and can make recommendations for the best running shoes for your foot type. But actually, the best way to find your perfect sneakers is to visit your local retail store and start trying on different brands and styles of running shoes.

Above: Choose from a variety of running shoe brands, including New Balance, at Family Footwear Center.
Who Makes the Best Running Shoes?
Here at Family Footwear Center, our expert footwear staff has made recommendations for their top picks on the best walking and running shoes. These athletic shoes are available in both running shoes for women and running shoes for men.
Brooks Ghost 12
Brooks is a favorite brand among runners everywhere. If you are looking for a high performance running shoe to take you from the treadmill at the gym to the open road, this is the perfect running shoe for you. The Brooks Ghost 12 offers medium to high arch support in a light weight, flexible, neutral shoe - make this your go-to running shoe for half to full marathons.

Above: If you primarily run off road, only choose supportive sneakers from the top Running Shoe brands
New Balance 990v5
The New Balance 990v5 is the perfect everyday shoe for light runs or spending the day exploring the city. This sneaker features suede and mesh uppers with fantastic arch and footbed support for miles of walking in comfort at your favorite outlet mall or power walking at your local park. The 990v5 is also a favorite "dad shoe" among legions of New Balance fans.
Merrell MQM Flex
If running for miles and miles on unpaved woodland trails is your favorite type of running then you are in luck. Marketed as a hybrid type shoe, the Merrell MQM Flex is a great all around trail running shoe that does double duty as a light hiker. This trail running shoe features a removable footbed that you can replace with your own insoles such as Aetrex Compete Orthotics.

If you are looking for a new pair of shoes to take you through the active days of summer, choose from many great styles of sneakers, running shoes and water sandals at Family Footwear Center.
Keen Newport H2 Water Sandal
Is it a shoe, a sneaker, a light hiker - just what is it? The Newport H2 Water Sandal by Keen is a fun, multi-purpose shoe for all your summer activities. No worries about squishy socks if you suddenly come upon a water crossing during your trail run - this shoe offers the breezy comfort of a sandal combined with the best features of a light hiker. From hiking in the woods, casual trail running or even kayaking, this shoe does it all.
Common Foot Problems When Running
Above: If you are experiencing foot pain while running, it may be time to get a new pair of running shoes, add a pair of sports specific insoles or orthotics to your shoes, or schedule an appointment with Pedorthist Gretchen Lima.
Walkers, runners and other athletes that don't have a neutral gait could benefit from the services of a footwear fit specialist. Both excessive pronation and supination (sometimes called under-pronation) can lead to pain in your hip, feet, legs, knees, and back. Certain exercises and stretches may help you run with less pain and better form, however; if you have a tendency to over or under pronate, a pedorthist can perform a gait assessment and recommend the perfect running shoes.
If you are a supinator, your feet have a tendency to roll to the outside when you walk or run. Supinators typically need a flexible, cushioning sneaker with a supportive heel area. If you are a pronator, your feet have a tendency to roll to the inside when you walk or run. Pronators will benefit from a more supportive shoe with a firm midsole and a moderate amount of heel cushioning.
If you are not sure if your gait is neutral, or if you over or under pronate, it might help to bring a pair or two of your current running shoes with you. During your appointment with Gretchen, she will analyze your gait, look at the wear pattern on your sneakers and make recommendations on the best type of running shoes and orthotics for you.
Just Say Yes to Insoles, Inserts and Orthotics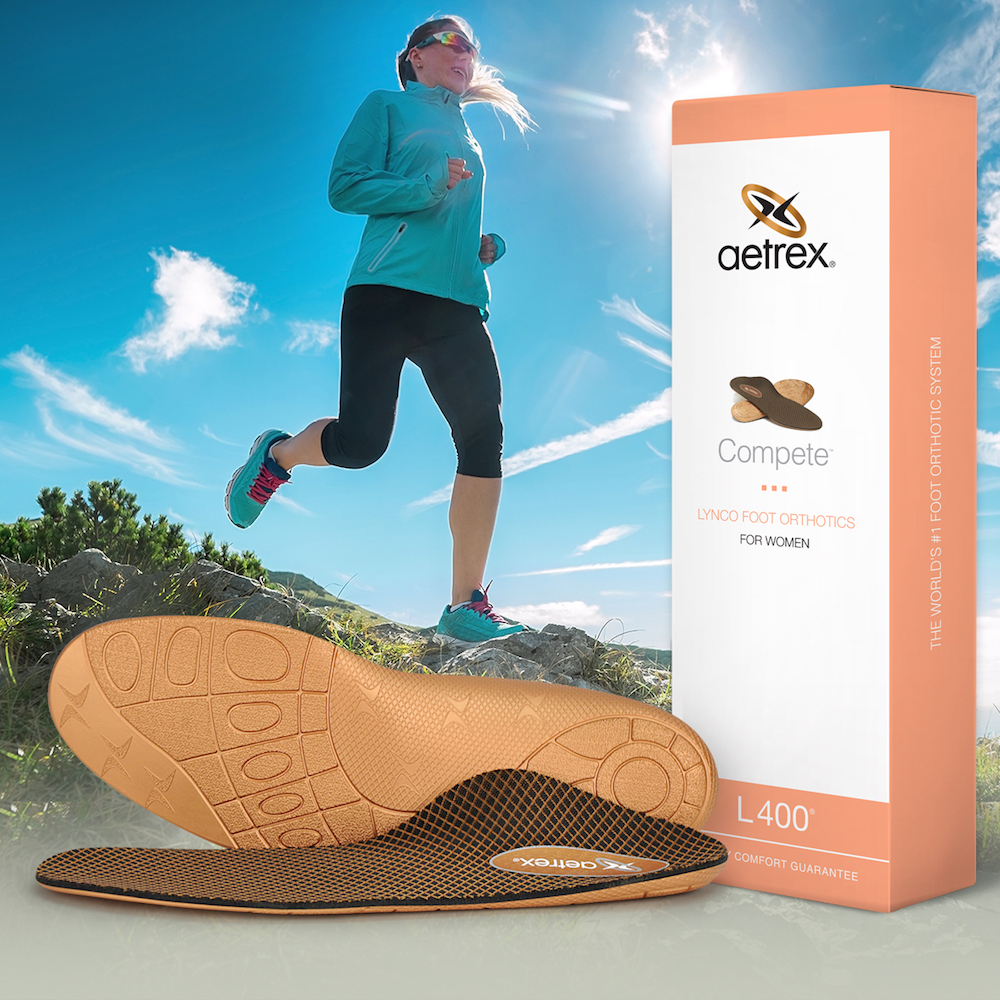 Above: For the ultimate in footwear comfort, get a pair of Aetrex Compete Orthotics for your running shoes.
You don't have to have a specific foot condition or injury to benefit from the services of an American Board Certified Pedorthist. With a few simple modifications a pedorthist can make your footwear more comfortable to wear. If the running shoes you are trying on have removable inserts, you can take them out and replace them with sports specific insoles or custom orthotics.
Top benefits of fitting your running shoes with orthotics include:
Metatarsal support for ball of the foot pain
Medial posting to realign rearfoot and control overpronation
Memory cushioning comfort for spending long hours walking, hiking or running
Helping your feet and lower body stay in alignment
Improving gait abnormalities such as supination
Preventing common foot issues like Shin Splints, Blisters and Tendonitis
You can purchase orthotics and inserts from a variety of sources, such as online stores, chiropractors, physical therapists and sporting goods stores. With so many options to choose from, it can be difficult to decide exactly what type of insert you should buy. That's where the services of a trained professional come in handy.
Here is Gretchen's review of one of her customers that made an appointment with her to get recommendations on trail running and road running shoes, "You have a narrower heel and a high in-step which makes you predisposed to Heel Pain, Plantar Fasciitis, Metatarsalgia issues, Arthritis on the top of your foot and rolling to the outside.
"Because you have a tendency to supinate, I recommend a neutral running shoe and to stay away from motion control shoes or shoes with too much support and cushioning. The Albert foot scanner recommends you use the Aetrex L400 Compete Orthotics in all your shoes that have removable inserts and if you're interested, I can also make recommendations for after run recovery shoes."
The Importance of After Run Recovery Shoes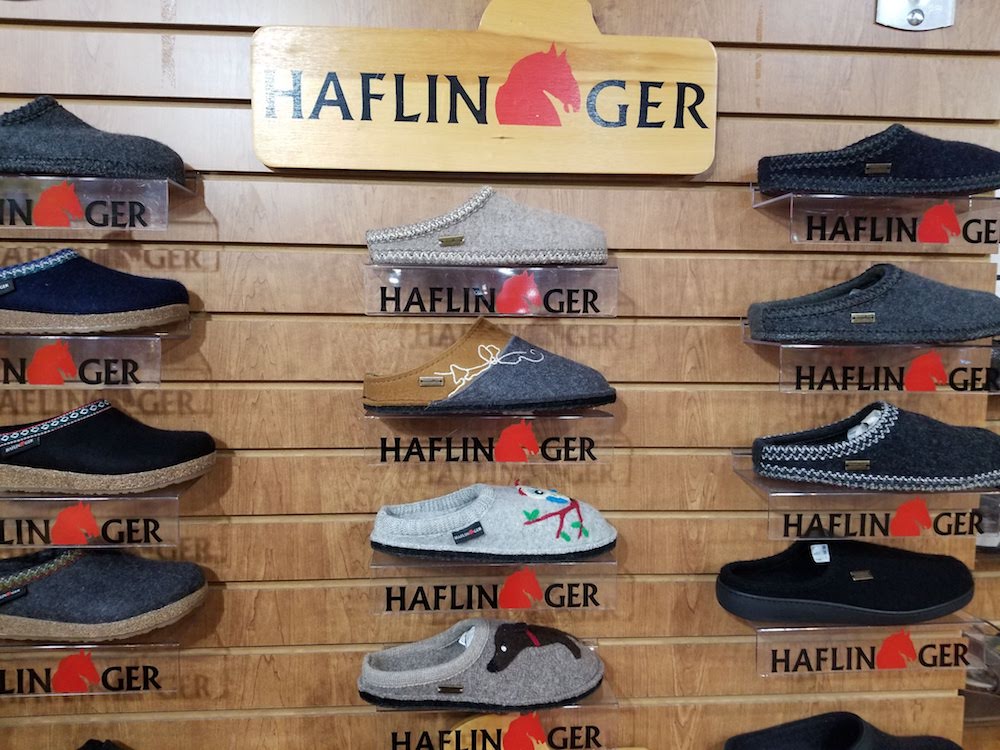 Above: Haflinger clogs and slippers make great post run recovery shoes.
Once you get back from your training session, instead of tearing off your running shoes and going barefoot, you may want to switch to some type of recovery shoes. Post run recovery shoes such as Oofos sandals, Birkenstocks or even casual and comfortable Crocs, can all be found in our Family Footwear Center store locations.
Among the aging population, many falls happening at home occur due to a lack of adequate footwear. Instead of going barefoot Gretchen says that all her customers, regardless of age, should wear some sort of supportive shoe. She recommends shoes such as Haflinger Clogs or Glerups Slippers with slip-resistant soles even when relaxing at home.
Finding the Perfect Running Shoes for You
The next time you are looking for the best running shoes for women, a new pair of sneakers to wear at the gym, or light hiking or running shoes to hit the trails, stop by Family Footwear Center or visit our E-commerce website.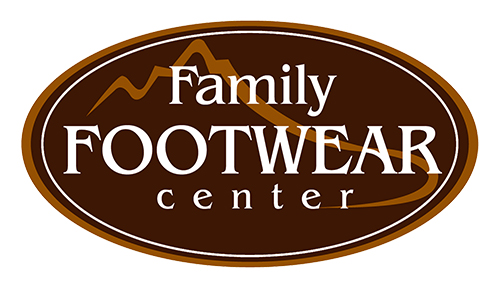 To help you dial in the perfect fit and find the perfect running shoe for you, schedule your appointment for a free foot fit consultation with Gretchen Lima at the Manchester, VT Family Footwear Center: 802-362-4378.
Family Footwear Center
We Fit You Best