Posted by Cara Spindler on Oct 13th 2018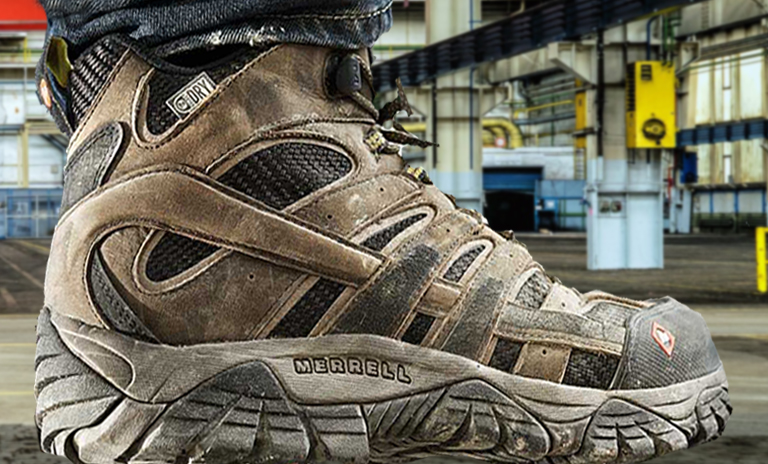 by CARA SPINDLER
Merrell Hikers Step Confidently Into the Workplace
Merrell Reimagines the Work Boot!
Merrell's MOAB 2 is the "MOTHER OF ALL (WORK) BOOTS!"
Don't you just love your day off?
You slip on your comfortable Merrell hiking boots and head out onto some rugged, muddy back road. Then you veer off into a deep forest to explore its more hidden, undiscovered trails.
You head out undaunted in your search for adventure, with the knowledge that you are well equipped - right down to your feet. At the end of the day, you return home with feet that feel surprisingly good, devoid of any aches and pains, thanks to the comfort of your Merrell Hikers.
You wake up the next morning, knowing you face a long 12-hour work shift. You quickly throw on your work clothes and reluctantly yank on your old pair of work boots.
You know the ones - those clunky boots that feel like you're wearing lead on your feet all day.
As you trudge down the hallway to the front door, you spy your favorite Merrell hiking boots that you had kicked off the night before, just lying there in a comfortable-looking heap.
And you recall how your feet never seem to ache when you're off hiking the world in your Merrells!
You stare wistfully at them—then you look down at your heavily-clad feet in dismay.
Ah! How you wish that you could wear your comfortable pair of Merrell hikers to work, instead of the steel-laden monstrosities that now engulf your feet!
Well, your wish has been granted!
Meet Merrell's Moab 2 Hiking Style Work Boots
Psssst! Want to know the secret why these work boots feel so good?
These work boots don't know they are supposed to be work boots!
They think they are a pair of hikers!
Check out the Merrell Hiking Style Work Boots here!
Technical Specs of the Merrell Moab 2 Work Boots
The worst part of the workday is the achy feet and legs that come from standing and walking around the job site all day.
Especially if the job site is situated atop concrete, dirt piles, asphalt, or uneven ground. Why can't someone design a pair of work boots as lightweight and comfortable as your weekend hikers?
Well, problem solved!
Merrell has re-engineered a pair of their most-loved hiking boots, the Moab 2, into work boots, so you can finally step confidently, and comfortably, into the workplace!
The Merrell Moab Hiker has a Composite Toe Cap:
As Strong as Steel, but with Benefits
An independent global lab called the American Standard for Testing Materials (ASTM) sets the footwear industry standard worldwide, for protective work boots and shoes.
On job sites where workers risk serious injury to their feet from serious impact or compression, footwear should meet or exceed, their ASTM F2413-11 footwear standard.
Since protective safety toe caps can be made out of a host of materials; such as steel, alloy, aluminum, or a combination of composite materials, Merrell chose to eliminate any unnecessary heaviness by choosing lightweight materials.
The Merrell Moab 2 Vent Hiking Work Boots have Composite Safety Toes that meet ASTM Standards.
A major benefit of having composite safety toes is that they weigh less. Lighter weight boots help prevent foot fatigue and reduce stress and strain on your legs.
A natural benefit of composite materials is that they will not transfer external temperatures into the interior of the boots. Toes will not absorb heat or cold from the outside elements through composite toe caps like they could if they were made out of steel.
Another extra benefit is that composite toe caps have much thinner toe box walls than their steel toe counterparts. This translates into extra wiggle room within the toe box - what a plus!
Merrell's M-Select™DRY Waterproofing System:
Simple Molecular Science
Merrell has a patented Internal Waterproof Membrane that is engineered to keep you dry in a hi-tech way.
Just like wearing your Merrell hiking boots on those rugged trails on your day off, you can relax and forget about mother nature's elements while at work. Wear them through rain, sleet or even while sloshing through dirty mud puddles on the job site, feet will stay 100% dry.
How does it work?
It's simple science!
Air molecules are much smaller than water molecules.
Merrell's M-Select™DRY waterproof membrane is designed with extremely small holes running throughout its fabric. These holes allow for tiny little air molecules to get in and circulate throughout the work boots, while the much larger water molecules simply cannot pass through. Therefore, the membrane will keep your feet 100% dry!
Hooray for Science!
Merrell Moab 2 Hiker Work Boot Outsoles:
The Gripping Truth
Merrell gave the Moab 2 work boots their patented M-Select GRIP Oil and Slip Resistant Outsoles.
These performance-driven outsoles have a 5 mm lug depth, which provides deep traction in wet or dry conditions over any terrain, just like your hikers!
They are Mark II tested, which is a widely accepted slip-resistance standard and they are Electrical Hazard (EH) Rated.
Technical Conclusion:
Moab 2 Work Boots Really Make the Grade
Technically, the Moab 2 Vent Hiking style work boots hit all the marks.
They have a lightweight, composite safety toe that meets ASTM standards, with a roomier toe box than steel toe boots. They are EH Rated, have slip-resistant gripping outsoles and they are 100% waterproof.
And hey -they even look cool too, just like your favorite hiking boots!
But do they feel like them?
Feeling Is Believing:
Merrell Work Boots are Pure Comfort
Most work boots on the market today that go long on protective features, come up terribly short on comfort features.
While this may just be an effort to keep work boots at an affordable price for the average consumer, it is an uncomfortable trade-off.
Therefore, Merrell technicians designed these "hiking style" work boots to meet rigid workplace standards, but they also designed them with your comfort specifically in mind. Built on their Moab 2 hiking boot platform, these boots will feel good on your feet while walking, or just standing, for hours on end.
After all, there is no reason why you should have to suffer on the job!
Serious Hiking Boot Features are Built Right In!
Long days on the job result in feet that become seriously uncomfortable.
Merrell understands that you need comfort to trek through your workday and go the distance, and an excellent support system for reaching new performance heights, just like on mountain trails. The Merrell Moab 2 Hiking Style Work Boot has it all.
Merrell wants your feet happy to be happy on the job, just like when feet are out on the trail!
Extra Comforts Found in the Moab 2 Work Boots
Merrell has incorporated a few additional comfort features into their work boots that are found in their Hiking Boots.
A Breathable Full-Grain Leather and Mesh Upper that provides Air Circulation throughout the boots
Merrell's M DRY Select Moisture-Wick Lining that draws wetness away from the foot, channeling it to the outside of the boots where it can evaporate.
Merrell's Kinetic-Fit Elite Footbed with a Lightweight Nylon Shank and good Arch Support to help combat foot fatigue
Strategically Placed Cushioning in key areas where you need it most; under the forefront and the heel sections
Thick Heel Air Cushions for Extra Shock Absorption
Responsive Outsoles that will move naturally with feet, to alleviate stress and strain on lower limbs and feet
Bonus Features: Enjoy the Little Things
Merrell has added a few extras that make the Moab 2 Work Boots stand out from he crowd.
Rubber Toe Guards that protect against abrasions and helps extend the life of the boots
A Bellows Tongue that is completely attached to the upper on both sides, to keep out dirt and debris
Stability Arms that add Strong Support where needed, without compromising flexibility or hamper the natural movement of the foot.
Heel Counter Cups that encourage a straight and balanced gait
One Final Thought
Traditional work boots can require an extended break-in period, and even can feel stiff and rigid underfoot for days, weeks...if not more!
But right out of the box, these Merrell's Moab 2 Vent hiking style work boots will feel like your favorite weekend hikers that you had kicked off and left by your front door!
Now I ask you, what could be better than that?
********************************************************************************************************************

7 Best Landscaping and
Landscape Construction Boots

by CARA SPINDLER
Expert Advice on the best Landscape and Landscape Construction Boots
based on safety and performance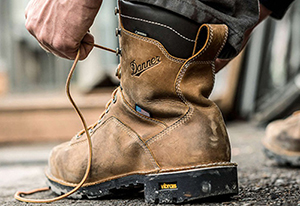 ********************************************************************************************************************

Real Made in the USA Work Boots
Elusive as a Yeti

by CARA SPINDLER
Expert advice on buying
REAL Made in the USA Work Boots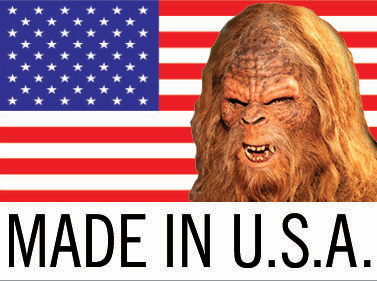 ********************************************************************************************************************
6 Best Lineman Boots | Expert Guide to the Best Pole Climbing Boots

by CARA SPINDLER

***************************************************************************************************
Why Leather Toes Wear Out on Steel Toe Boots

by CARA SPINDLER