Posted by Cara Spindler on Jun 5th 2023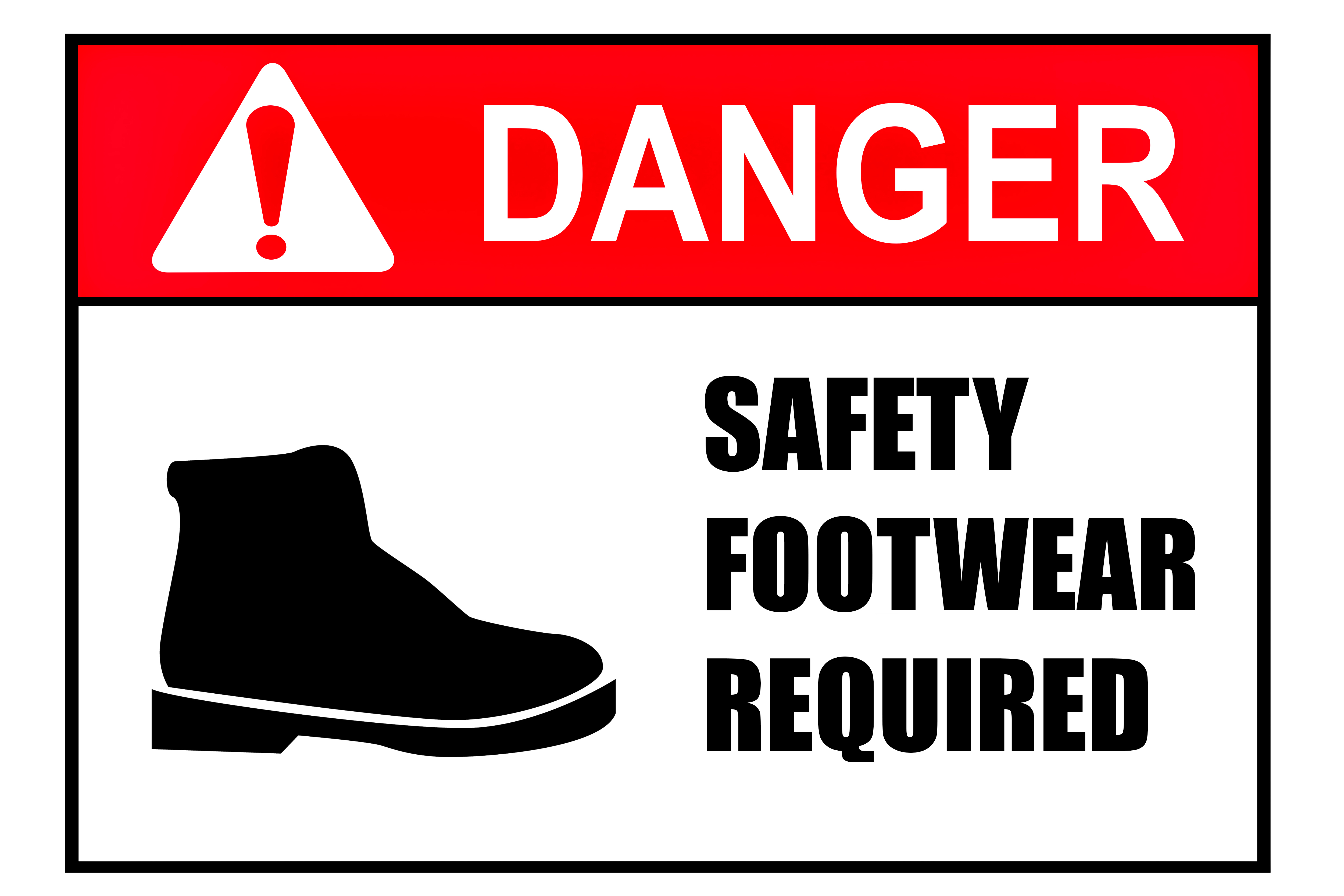 ASTM Safety Standards 2023 | Expert Guide to Work Boot Safety
by CARA SPINDLER
Footwear needs to be tough enough to protect feet in today's high-intensity work environments.
If you are working at a job that requires the wearing of safety toe footwear, it is crucial that you follow your employer's regulations in order to protect your feet, and for that matter, even possibly your life.

Foot, ankle and knee injuries can always be life-changing events, both physically and financially, but they are especially life-changing if the proper safety precautions are not followed if you are injured while on the job.
Work Boot Safety is a Requirement on Dangerous Work Sites

Without the proper safety footwear, you may find your feet or toes getting injured, crushed, or even worse - severed on the job. This could be due to a fork-lift riding over your toes, a bone-crushing object rolling across your feet, or an unseen heavy object that drops down from above.
Let's Face It. Accidents Do Happen.

You may think you will be alert at all times to prevent any personal injury to yourself while working, but unfortunately, this is a dangerous mindset. Accidents are called accidents because, by their very nature, they are unexpected and they usually happen very quickly, without giving you any time to react to avoid an injury.

If a severe accident should occur while not wearing the required safety footwear, you may become instantly disabled with no financial recourse, because your company's safety policy had not been followed.

Safety Footwear is More Beneficial to You Than to Your Employer
If your job has mandated that you wear protective footwear and you fail to do so and then an injury occurs, you may be denied Workman's Compensation for the time off needed to heal and you may also be denied any medical bill coverage, or financial compensation to help you recover financially from time lost on the job.
Therefore, it is crucial to adhere to your employer's footwear requirements, so, as a worker, you can perform at your level best, while minimizing the risk of serious injury to you and while minimizing the risk of liability to your employer.
Workplace Injuries to Feet, Ankles and Knees
According to The Bureau of Labor Statistics 1 workplace injuries that happen to the feet, ankles and knees occur on a regular basis. In fact, in 2018 alone, there were 215,550 non-fatal occupational injuries to workers on the lower extremities of their bodies, that resulted in the need to take time off of the job to recover.
Sometimes these reported injuries are just unavoidable accidents that occur while wearing the proper protective gear, but other times injuries happen because the right type of protective footwear was not worn.
Employers May Require Footwear with the Following:
Beware of Compromised or Damaged Footwear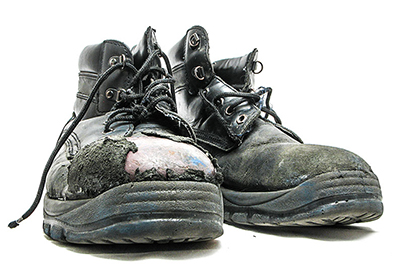 Compromised Safety Footwear
The material uppers of your work boots or work shoes are what hold and secure the safety toe caps in place.

If the leather or fabric uppers have become torn, or worn through, this could actually compromise their protection.
Replace your footwear as soon as the uppers have become damaged enough to expose the protective toe caps. Without the surrounding, support structure of the uppers, toe caps can easily slip out of place.

Even if only by a centimeter, any amount of shifting may be just enough to render toe protection ineffective, or worse, cause them to do more harm than good. Safety Toes offer maximum protection, but only if they remain where they were designed and engineered to be.
Damaged Safety Footwear
If your Safety Toe footwear has already done its job by previously protecting your feet from a serious injury, it is crucial to stop wearing them and replace them immediately.

Once safety toes absorb an impact, they have become damaged, even if it is not visible to the eye.

After protecting your feet from a serious impact or compression, Steel, Alloy and Aluminum toe caps will become dented or bent, and Composite Toe Caps will become cracked, partially fractured, or completely shattered. Hence, they will not be able to protect your feet from a serious impact or compression should one occur in the future.

A good example of this is to think about an automobile's frame and how it protects its occupants. If a car becomes involved in a serious motor vehicle collision, the car's frame will have become crimped, or bent and it will no longer be able to protect the occupants in future collisions to the degree it was originally intended to do.
OSHA Protects Workers on the Job
OSHA is an acronym for the Occupational Safety and Health Administration, which is a division of the US Department of Labor created in 1970. They were formed to help keep American workers safe on the job by setting strict safety standards, including those for Personal Protective Equipment (PPE) in the workplace.
OSHA has the authority to require companies to follow their strict guidelines when it comes to PPE and this includes safety footwear. Failure to follow OSHA's PPE requirements can result in hefty fines to a violating company.

Just how much? in 2018 alone, OSHA violations cost American businesses over $400 million dollars in violation fines.
OSHA Follows ASTM Standards and Procedures
Their standards for Foot Protection can be found here on OSHA's website.

What is ASTM?
ASTM stands for the American Society for Testing and Materials. They have been around for over 120 years and are well-respected as the world's leader in standards-related products and services.
In 2001 ASTM became known as ASTM International, because their partnerships have reached across the globe. Their organization has over 30,000 members in over 140 countries that work together to develop the technical standards for a wide range of products. They have currently implemented over 12,500 Global ASTM Standards, including ones that involve safety footwear.
OSHA references these ASTM Standards and Procedures for safety footwear:
ASTM F-2412 "Standard Test Methods for Foot Protection,"

ASTM F-2413 "Standard Specification for Performance Requirements for Protective Footwear"

Boot and shoe manufacturers that make work boots can only label them with the ASTM F-2413 safety designation if they met the strict ASTM-F2412 guidelines for testing and performance in the lab.
Protective Elements Must be Clearly Marked Prior to Production
The safety components, such as the Safety Toe Caps, Puncture Resistant Plates, and Metatarsal Guards, etc., must be clearly marked with the Manufacturer's identification (such as their name, or logo), and an identifying number for the specific device or part used,

In addition, Safety Toe Caps must be permanently stamped with their size and they must also be clearly labeled with an "L" or an "R" to designate the proper placement of the toe caps into the left and rights of the boots or shoes.

These designations are needed for future reference, in the event an injury should occur that may have been due to a manufacturing defect, or due to an improper part having been used, or improperly placed, during the manufacturing process at the factory.
ASTM Reviews Their Standards and Practices Every Five Years
In October 2019 ASTM issued an update to their footwear safety standards 2 by adding three new specific guidelines:
1. A COC (Certification of Compliance) must be issued by a third-party laboratory, that states the name of the manufacturer, the product name and style number, and SKU to assure the footwear has passed the ASTM standards for safety and performance.


2. The original requirements for (SD) Static Dissipative Standard has been divided into 3 separate levels of protection, to assure your footwear has the right amount of protection needed, depending on the job s's conditions.
SD 100 -Static Dissipative 1-100 Megohms
SD 35 -Static Dissipative 1- 35 Megohms
SD 10 -Static Dissipative 1- 10 Megohms



Justin Boots states that SD boots and shoes:
"...help transfer static electricity through the insole, lining, cement, and outsole, into the ground. They help regulate the buildup of electrical charge on your body; very important if you work in or around anything combustible, or materials sensitive to electrostatic discharge."
3. All work boots or work shoes will be properly labeled to reflect the ASTM standards they have met, to make it easy for the consumer to be sure they will protect them on the job. This will include one line of information that notes the ASTM standard number with year of issuance, a second line that notes the gender the boot is made for, and its Impact and Compression resistance. and the third line will show additional protections if applicable, such as : Mt/EH/PR for Metatarsal Guard / Electrical Hazard Rated / Puncture Resistance.
Does Your Footwear Meet ASTM Standards?
Footwear that meets OSHA Safety Toe requirements will have its ASTM information sewn directly into the safety footwear's interior lining, or it will be stamped directly on the inside of the leather tongue of the work boots or shoes.

You can usually find the ASTM label on the interior of at least one, if not both, of the work boots or work shoes. The label will generally be rectangular in shape and have 3-4 lines of safety codes noted.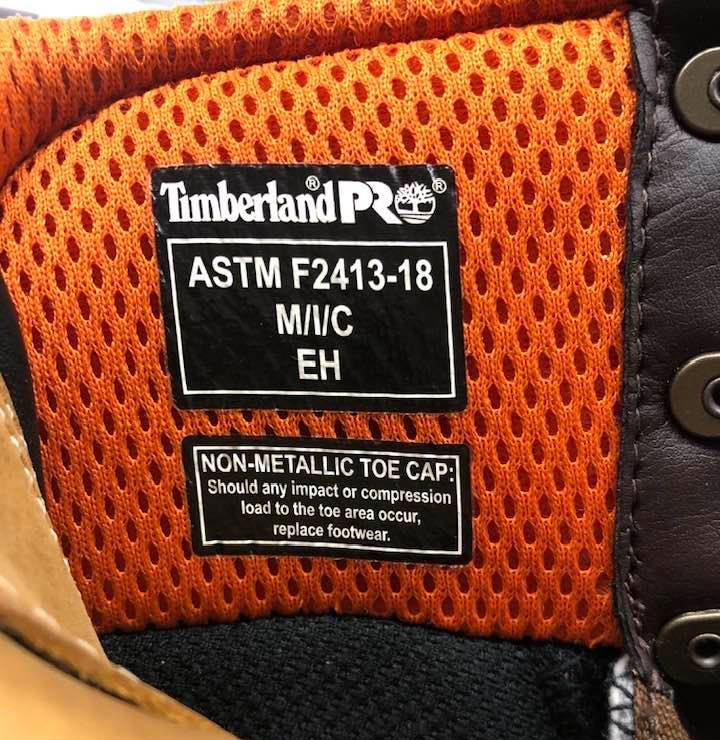 Shown above: A safety label stitched in the lining of a Timberland PRO boot.


A proper ASTM safety toe label, usually rectangular in shape, has to provide 3-4 lines of specific safety information.
Line #1 The ASTM Standard the Footwear Meets, followed by the year of issuance
Line #2- There will be an "M" or an "F" to distinguish if the footwear is designed for a Male or Female
There is a taller height requirement for a man's Safety Toe Cap compared to a woman's - a slight difference of .032" and for Metatarsal Height Protection, there is a difference of .063".

I / C denotes that the boot or shoe has met the highest ASTM Standards for Impact and Compression
Impact= The footwear can tolerate a force of 75 lbf being dropped down onto the Safety Toe Cap
Compression= The Safety Toe Cap can handle a crushing compressive force of 2500lbf
Line # 3 Notes additional Safety Features that meets ASTM safety standards
Such as: EH (Electrical Hazard) MT (Metatarsal Guard) SD (Static Dissipating) PR (Puncture Resistance)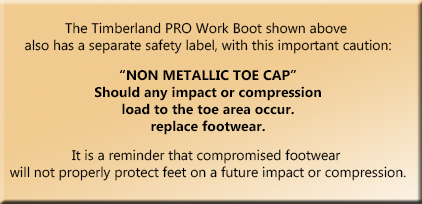 The Most Common Types of Safety Toes
Safety Toe Work Boots and Work Shoes became prominent in the workplace after the end of World War II. Since then boot manufacturing technologies have evolved to provide workers many more options, when it comes to protecting their feet.. As an alternative to heavy steel., these options now include toe caps made up of composite materials, alloy and even some made of aluminum or titanium.
Steel Toe Caps
Steel Toe caps are the most traditional form of toe protection in the workplace. This is because Steel was the first material used for protection. And that is understandable because of steel's incredible strength under pressure.

Today, it still remains the strongest form of protection when under the crushing force of an Impact. or Compression, generally exceeding the ASTM/ OSHA standards for toe protection in the work place.
Steel does come with its drawbacks though. It is the heaviest type of toe protection, which can often lead to foot fatigue on long work days spent standing, or walking on your feet. Steel will conduct extreme hot, or cold, outside temperatures into the toe box areas of the boots.
To counter this, many workers invest in two pairs of steel toe boots; one pair that is non-insulated to keep feet cool in the summer and a second pair that is insulated for the winter to counteract the cold transfer into the boots.

Composite Toe Caps
Composite Toe Caps are a lightweight alternative to Steel Safety Toes. They are generally made of a composite of non-metallic materials; such as Fiberglass, Kevlar or Carbon Fibers that work together to give the toe caps their strength.

In addition to being much lighter in weight than steel, composite toe caps are made to be much thinner and therefore take up much less room in the toe box area. As a bonus, these materials will not transfer extreme hot or cold temperatures into the toe boxes of the work boots or work shoes.

A big advantage to having non-metallic safety footwear is that they will not set off metal detectors. making them popular for those who work at airports court houses and other high security facilities.

Though they are slightly less effective in protecting toes as steel, composite toe caps do meet the same level of impact and compression protection deemed necessary by ASTM and OSHA, for safety on the job.

Alloy: Aluminum and Titanium Toe Caps
Alloy toe caps are another option that meets the ASTM Standards for Impact and Compression, however they are the most expensive style of toe protection on the market today.

They are generally made from materials such as aluminum and light weight titanium, but they may be made in conjunction with such materials as: iron, copper, silicon, manganese, magnesium, chromium,and zinc.

While alloy toe safety boots can wind up being 30-50% lighter than their steel toe counterparts, one disadvantage is that they are much bulkier than steel. And unlike composite toe boots, alloy toe caps will set off metal detectors in work places with high security areas.

ASTM F2892-18 Non-Safety Toe Footwear
If the work boots or work shoes you are buying have a soft toe rather that a safety toe, they may still have other safety features that are important for safety on the job.
To make it easier for consumers to know which protections the footwear will provide, an Oval tag will appear within the lining of the work boots or work shoes, indicating which safety features it provides. These may include: (EH) Electrical Hazard Rating, (PR) Puncture Resistance (SR) Slip Resistance, or (SD) Static Dissipating, just to name a few.
One Final Thought:
Don't become a statistic.

The right type of protective work boots or work shoes is crucial to keeping you safe on the job.
Follow all mandates from your employer about what type of safety footwear you need for your workplace.
Make sure the footwear you buy meets the required ASTM standards, by checking the label inside the footwear.

CITES:
1. Source: Bureau of Labor Statistics, U.S. Department of Labor, Survey of Occupational Injuries and Illnesses, in cooperation with participating state agencies.
bls.gov/iif/oshwc/osh/case/cd_r13_2018.htm

2 ASTM Standardization News, "Revised Footwear Standards to Improve Testing and Performance Data, https://www.astm.org/standardization-news/?q=update/revised-footwear-standards-improve-testing-and-performance-data

*Updated on 6-5-2023 to reflect the latest ASTM Safety Rules and Regulations